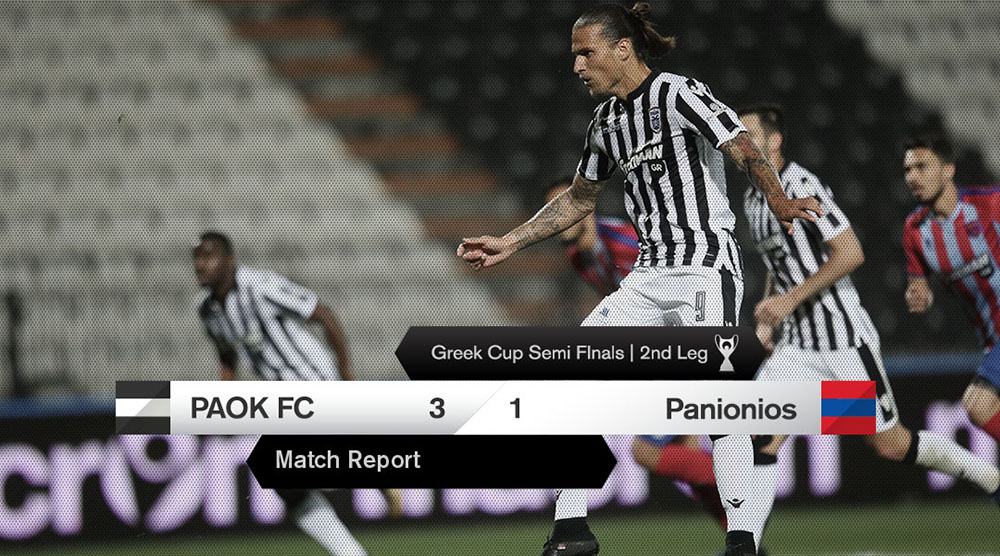 Waiting for their Greek Cup final rivals
The "Double-Headed Eagle" prevailed 3-1 at home as well and will play the final for a second consecutive year. Empty Toumba is a "cold" sight, but Răzvan Lucescu have won all their behind-closed-doors matches.
Efthymis Koulouris gave PAOK the lead with a header, but Panionios leveled through Masouras, following a free kick in the 41st minute.
A beautiful goal by Dimitris Pelkas and a spot kick by Aleksandar Prijović after the interval sealed PAOK's win.
The "Double-Headed Eagle" are expecting Wednesday's semi-final to find out whether they will face AEK Athens or AEL Larissa in the Greek Cup final, to be held on 12 May.
Line-ups:
PΑΟΚ ( Răzvan Lucescu ): Paschalakis, Varela, Crespo (76′ Cañas), Matos, Azevedo, Maurício, Shakhov, Pelkas, Limnios (60′ Campos), Biseswar, Koulouris (61′ Prijović)
Panionios (Michalis Grigoriou): Kotnik, Saramantas (46′ Piniotis), Stavropoulos, Banana, Papageorgiou, Makryllos, Korbos, Ikonomidis, Masouras (63′ Spiridonović), Brahimi (75′ Nowak), Yeşil