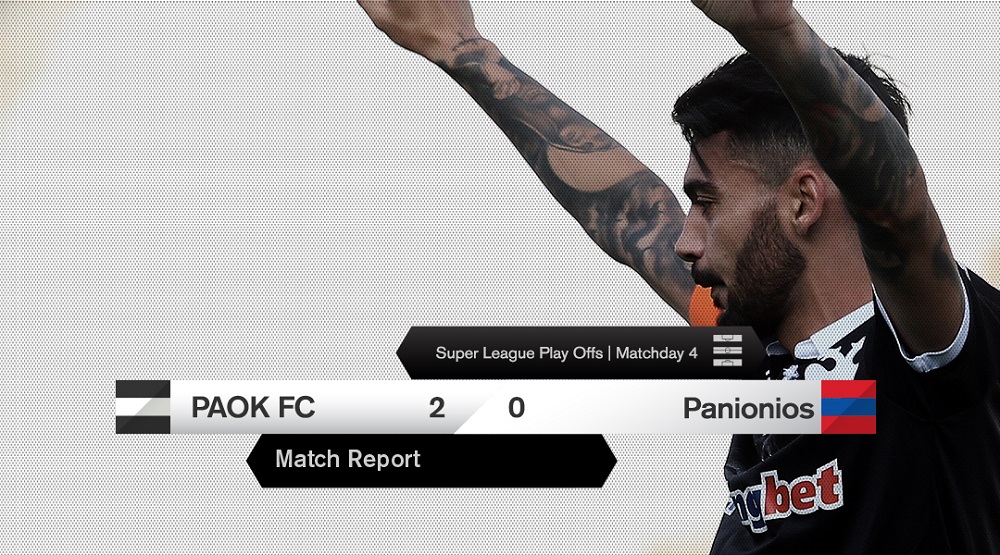 Klaus finishes off Panionios
Forty-five minutes of good and efficient football were enough for PAOK to defeat Panionios 2-0 and at the same time keep up their strength ahead of the last two crucial games of the play-offs.
Vladan Ivić's troops stormed out of the blocks determined to dominate and deprive the visitors of any hope.
PAOK created opportunities right from the start, namely from the flanks through the combination of Giannis Skondras – Garry Rodrigues, Marin Leovac – Róbert Mak and with Stefanos Athanasiadis spearheading the attack. PAOK's captain wasted his first two chances (a shot on post and a header), but scored the opener at the third time of asking, following a fine move with Gojko Cimirot in the 14th minute.
Eleven minutes later, Klaus completed his brace assisted by Mak. The match actually was decided at that point, although PAOK could have extended their victory until the end of the first half.
After the interval, the team took their foot off the throttle, because of accumulated fatigue. They are also thinking ahead to the 180 minutes remaining in their battle to snatch the UEFA Champions League spot on offer. Apart from a header by Nikos Korovesis that went just wide, the second half was uneventful.
Stefanos Athanasiadis broke the 100-goal milestone with his brace (he now has scored 101 goals for PAOK). The team are now in the driver's seat in the play-offs and their performances show that they can remain there until the end.
Line-ups:
PΑΟΚ: Glykos, Vítor, Malezas (64′ Chatziisaias), Skondras, Leovac, Τziolis, Cimirot, Pelkas, Μak, Rodrígues (72′ Κorovesis), Αthanasiadis (46′ Berbatov)
Panionios: Papadopoulos, Pozatzidis, Patsatzoglou, Risvanis (81′ K.Vlachos), Argyropoulos, Siopis (66′ Bletsas), Κorbos, Μasouras (80′ Piniotis), Villalba, Κatharios, Bargan.