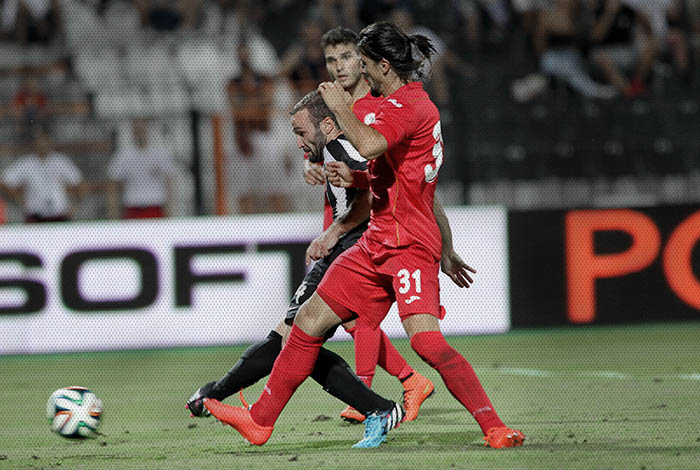 It had been 10 years since Angelos Anastasiadis last coached PAOK at Toumba Stadium and his troops saw to it that his return would be done in style. Dimitris Salpingidis netted the winner on an assist by Fanis Tzandaris in the 83rd minute, as PAOK prevailed 1-0 over SKODA Xanthi on Tuesday evening.
"We are not playing friendly encounters to win, but to prepare our players", Anastasiadis says and he was once again true to his words, as he made several changes in his line-ups. Despite the constant substitutions, the "Double-Headed Eagle" created danger, but also were threatened by SKODA Xanthi who were on the lookout for counterattacking opportunities.
After the interval, PAOK tactician fielded a different line-up, giving their first start for the season to Greek internationals Giorgos Tzavellas and Salpingidis, with the latter netting the winner. Panagiotis Glykos started the encounter.
The line-ups:
PΑΟΚ: Glykos (46′ Giakoumis), Konstantinidis (46′ Kitsiou), Raț (56′ Polyzos), Katsikas (46′ Tzavellas), Skondras (56′ Vítor), Kace (56′ Panagiotoudis), Pozoglou (46′ Pozatzidis), Savvidis (46′ Maduro), Koulouris (56′ Salpingidis), Pereyra (56′ Popovic), Martens (46′ Tzandaris).
SKODA Xanthi: Kyriakidis (62′ Zaropoulos), Bertos (62′ Perreira), Lisgaras, Karypidis (87′ Kollaras), Wallace (56′ Baxevanidis), Fliskas (46′ Kapetanos), Papasterianos (72′ Baretas), Ranos (56′ Paschalakis), Vasilakakis (83′ Tsamouris), Lucero (83′ Orfanidis), Calvo (56′ Soltani).