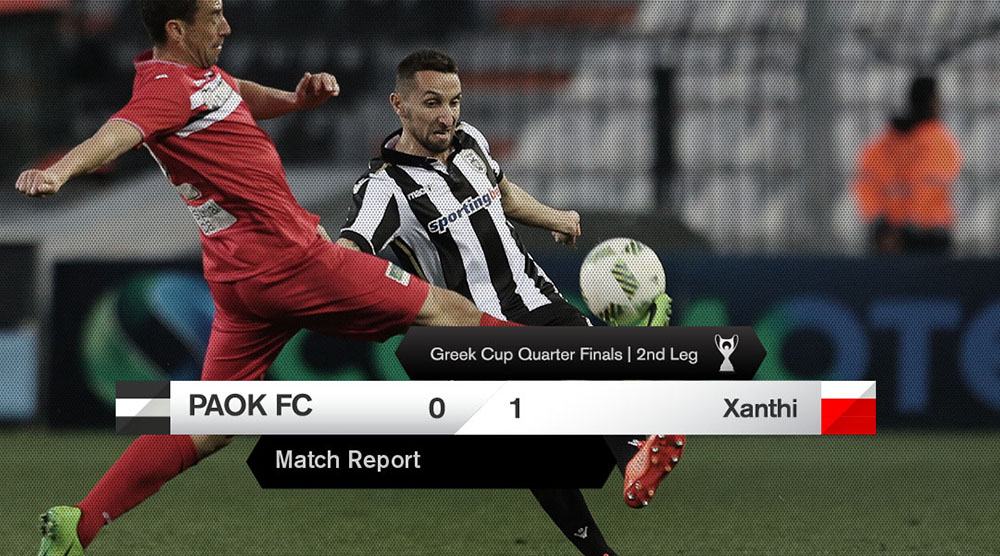 PAOK secured their passage to the Greek Cup semi-finals despite their 1-0 home defeat by Xanthi in the second leg.
PAOK's performance left much to be desired, but they did qualify to the Greek Cup semi-finals thanks to their first-leg victory in Pigadia.
Their first attempt on goal on Thursday was recorded in the 3rd minute of the encounter with Gojko Cimirot's fine volley from the edge of the box that went wide.
The encounter got off to a low-key start, with niggling fouls interrupting PAOK's efforts to find their footing and create real danger in Xanthi's box.
The complexion of the match didn't change much in the first half, with the exception of the 40th minute, when PAOK came agonizingly close to an opener. Stelios Kitsiou charged down the right flank and his cross found Dimitris Pelkas, whose impressive overhead scissors' kick struck the crossbar.
Neither side accomplished much offensively in the first half. PAOK were struggling to make much creative capital out of their possession, but at the same time managed to hold off the advances of their visitors in Panagiotis Glykos's box.
A long-range shot by Efthymis Koulouris in the early stages of the second half was blocked by Xanthi's goalkeeper. The visitors however were the ones to draw first blood, taking the lead in the 64th minute with a direct free kick by Hamza Younés.
The "Double-Headed Eagle" tried to react, but they only had a fine shot by Diego Biseswar volleyed away by Živković to show for in the 90th minute.
Despite their defeat, PAOK will be present in the Greek Cup semi-finals' draw, thanks to their first leg 2-1 victory in Pigadia.
Line-ups:
PΑΟΚ: Glykos, Varela, Crespo, Κitsiou (69' Μatos), Cimirot, Leovac, Shakhov, Campos, Pelkas (61' Biseswar), Mystakidis, Koulouris (85' Prijović).
Xanthi: Živković, Sylla, Κarasalidis, Lisgaras, Baxevanidis, Lucero, Mejía (71' De Lucas), Lazić (61' Τriadis), Pizzelli (60΄ Vasilakakis), Soltani, Younés.