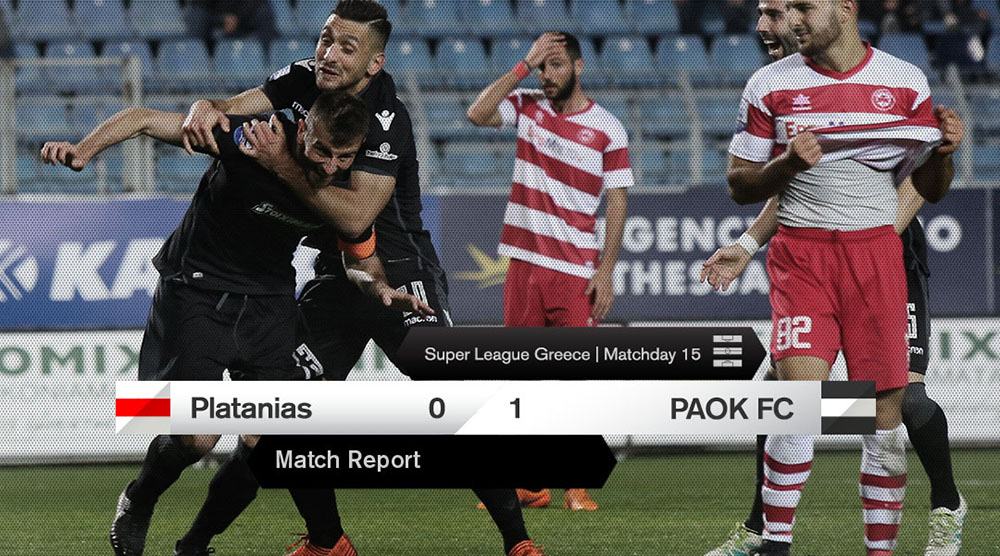 Malezas wishes you Merry Christmas!
The match started in a rather underwhelming pace, but the visitors had already taken control of proceedings. There were scarcely any opportunities at both ends of the pitch, except for the last 2-3 minutes of the first half. Kokkalas managed to keep his goal intact, by producing spectacular saves to a free kick by Dimitris Pelkas and a header of Fernando Varela .
The same pattern applied right after the interval, with the home goalkeeper keeping Maurício and Efthymis Koulouris at bay. But what attacking players couldn't do, Stelios Malezas achieved in the 56th minute. He scored the opener with a close-range shot following a headed assist by José Ángel Crespo .
Despite coming close to netting a second goal numerous times, the "Double-Headed Eagle" couldn't extend their lead and had to protect their 1-0 victory in the final minutes, when Platanias made a few attempts to equalize.
Malezas's goal decided the encounter against Platanias, who are much better than their lowly place in the standings suggests.
Line-ups:
Platanias (José Manuel Roca): Kokkalas, Vanderson, Angelopoulos (70' Stanisavljević), Papanikolaou (85' Stojčev), Karypidis. Devesa, Dimoutsos, Oues, Grzelczak, Dikamona, Stamou (81' Patralis)
PΑΟΚ ( Răzvan Lucescu ): Paschalakis , Varela , Malezas , Matos , Crespo , Maurício (64'Cimirot), Cañas (86' Shakhov ), Pelkas , Campos (72' Biseswar ), Limnios , Koulouris.