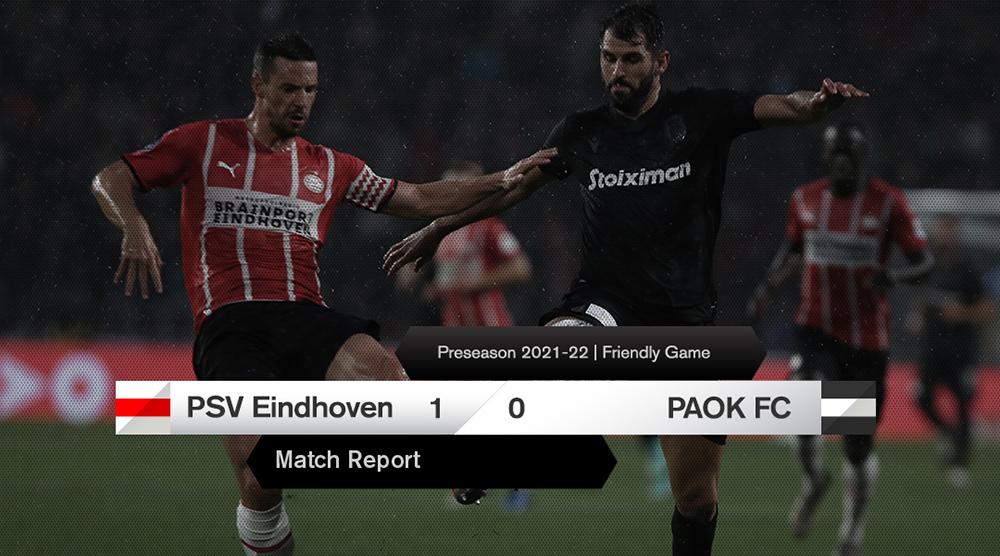 By definition this friendly match was a special case. PAOK came into the match on only the 10th day of their pre-season preparations, and that following a trip and double training sessions. The opposition, on the hand, was treating the match as a major dress rehearsal for the start of UEFA Champions League qualifying which starts in just seven days. In the end, a well-prepared PSV Eindhoven side prevailed 1-0 in the first game at the Philips Stadion with a full crowd since the outbreak of the Covid-19 pandemic.
PAOK, although still in the early stages of the club's summer preparations, was able to measure their strengths against a team that are further ahead in their pre-season, with Razvan Lucsescu observing plenty of points from his players, even mistakes and weaknesses that he will no doubt work on in training during the following days.
The Romanian coach used almost all of the players at his disposal, tried out some different players in various positions, and was satisfied with the fighting spirit and effort of his players.
The Dutch were in control of the match for the majority of the game, and they looked the more threatening side going forward with Zivkovic and Paschalakis the busiest players in the PAOK goal playing a half each. PAOK did manage to create chances too, however, but neither Esiti nor Tzolis were able to capitalise on them.
The goal that decided the match was scored by Mandueke, who latched on to the rebound after Zivkovic had saved a shot from Zahavi in ​​the 25th minute.
PAOK lineup:
Zivkovic (46′ Paschalakis), Taylor (46′ Lyratzis), Varela (46′ Crespo), Michailidis (46′ Mihai), Pereira (46′ Rodrigo), Esiti (46′ Ninua), El Kaddouri (46′ Schwab), Kagawa (46′ Vrakas), A. Zivkovic (46′ Tzolis), Lambrou (46′ Murg), Swidrski (46′ Oliveira, 78′ Koutsias).