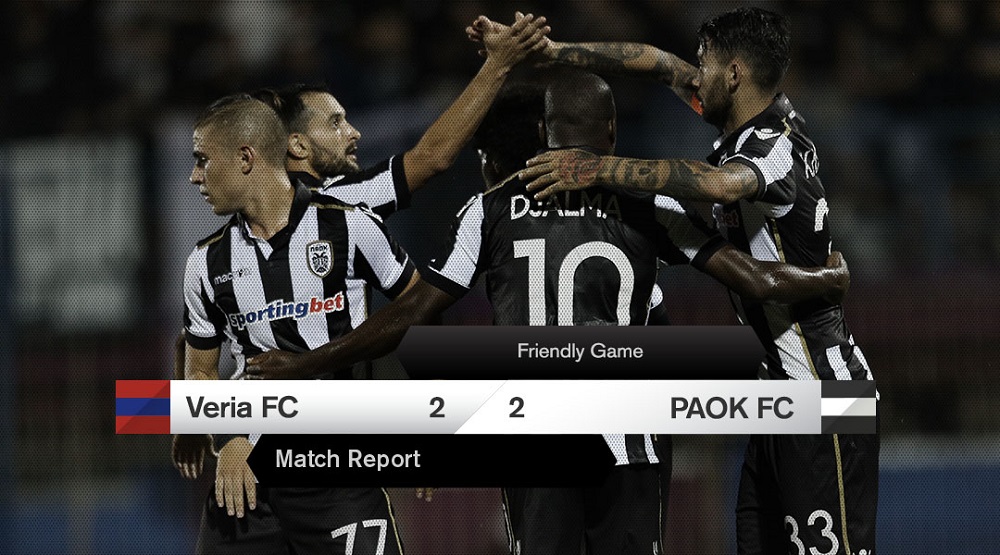 The league has yet to start and, until the Greek Federation comply with their commitments, teams are trying to keep in competitive rhythm through friendly encounters. In a hard-fought and entertaining encounter, Veria and PAOK drew 2-2. The "Double-Headed Eagle" were superior, but were made to pay for a mediocre 15-minute patch in the second half.
In the first half, Vladan Ivić fielded a 4-4-2 attacking formation, with Diego Biseswar and Djalma Campos as wingers in the midfield line and with Facundo Pereyra and Stefanos Athanasiadis teaming up in attack. Although that's not the tactical system used so far by PAOK, the team responded well with ball possession and fine attacking combinations.
With Campos in fine spirits, the "Double-Headed Eagle"… camped in Veria's box and Athanasiadis came twice close to breaking the deadlock, as did Pereyra. PAOK took the lead following an exquisite attacking transition with José Alberto Cañas, Klaus and Pereyra playing one-touch football. The latter teed up Campos who beat López in the 26th minute.
Campos turned to provider six minutes later, as his pin-point cross was met at the far post by Klaus who made it 2-0 with a header. That was the scoreline of the first half, with Veria coming close only once, just before they conceded the first goal.
After the interval, the outlook of the encounter didn't change much, except for a 15-minute outbreak of Veria, who managed to equalize with two spectacular goals: a volley by Kapetanos in the 52nd minute and a net-buster by Papadopoulos four minutes later. PAOK regained their composure, created more chances to score, but didn't convert them. In the last minutes, the match lost its pace due to the numerous substitutions.
PAOK line-up:
Brkić, Κitsiou, Crespo, Matos (46′ Leovac), Pougouras, Cañas, Biseswar (76′ Τzovaras), Pelkas (76′ Dimitriadis), Campos (76′ Deligiannidis), Pereyra (61′ Korovesis), Athanasiadis.