paokfc.gr/News/
One more trophy for PAOK
One more trophy for PAOK
PAOK U14s were crowned champions of the Macedonia Clubs' Union U15 league, after prevailing 1-0 over AE Pontii Katerini in the final held on Sunday 19 May in Mikra.
20.05.2019
Konstantinos Goumas converted a penalty to hand PAOK Academy one more title this season. PAOK U14 goalkeeper Spyros Angelidis was MVP of the final for his series of spectacular saves, including a spot kick.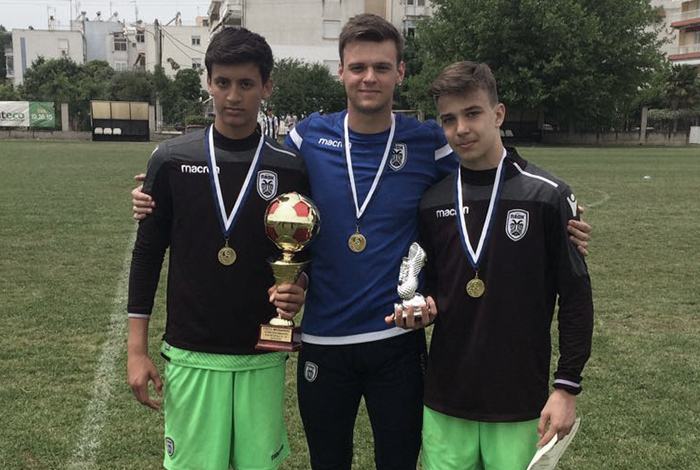 We should note that in Macedonia Clubs' Union leagues, the PAOK U14s and all other teams of the "Double-Headed Eagle" compete against players one year older than them.
PAOK U14s are coached by Theofilos Chatzistathis and Savvas Konstantinidis. Dimitris Petrakis is their goalkeeping coach.
PAOK U14 squad consists of: Spyros Angelidis, Charalampos Georgiadis, Dimitrios Papaevangelou, Athanasios Panagiotidis, Panagiotis Theodosiadis, Ioannis Giagoulas, Nikolaos Deligiannis, Konstantinos Goumas, Stefanos Aliferopoulos, Dimitrios Kottas, Christos Almyras, Panagiotis Pekridis, Konstantinos Ignatiou, Savvas Michailidis, Athanasios Giagtzidis, Nikolaos Mavris, Gustavo Varela, Ioannis Koutsioudis, Alexandros Adam.