paokfc.gr/First Team/
The love affair between the boy and the ball
The love affair between the boy and the ball
The art of turning limitations into virtues in football, and virtues that are so exciting to watch, is perhaps one of the results of the love affair between a child and the ball. The laconic and usually awkward Giannis Konstantelias can not have put it more succinctly, after all. "I fell in love with football…". Forgive us a dose of exaggeration, but right now Greek football and indeed beyond has "fallen in love" with Konstantelias. We admit that his maiden call-up to the Greece national team perhaps "legitimizes" PAOK to refer to another shining youngster of our own, in a way that we have consciously not done so far. Not out of hesitation, feigned humility, or, some apprehension. On the contrary. The quality and consistency of Giannis at all levels "speaks" effortlessly for itself. We are looking for an "excuse", as you know…
23.03.2023
Tomorrow, Friday 24.03, on the eve of our national holiday, Giannis Konstantelias, along with Konstantinos Koulierakis, will be in Portugal for the game between Greece and Gibraltar (21:45) for the qualifying phase of the 2024 European Championship. It is without a doubt an honor to wear the jersey with the national coat of arms, especially in your 20s. «I would be lying if I claimed that I didn't expect the call up to the national team,» says Giannis, «but in any case, I felt very good when Mr. Poyet sent me the message.» It's nice to be with Koulierakis and I just can't wait to meet all of my teammates.» That is all. Short and sweet. He is not a man who likes to say too much.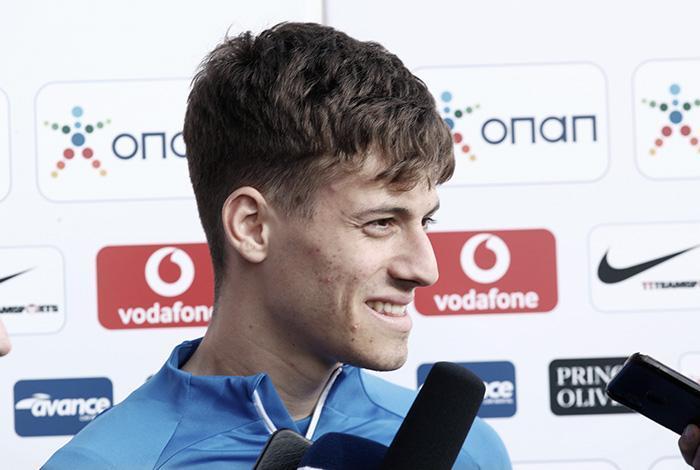 We agree, and we will resort to clichés, but in his introduction to the world of senior top level football so far – the development team knew him very well – he has already «spoken» in the appropriate way. Exciting, intelligent, and influential, with skills that quite rightfully went viral, with football altruism – obviously a sign of maturity, in absolute contrast to his childlike smile – and a lowered gaze to unanswered standing ovations at the Toumba and around other grounds. The PAOK Academy kid who went through all the stages of the club's development programme, and who caused fans to rush to youth matches to see up close the kid who was described as a little «magician», and who caught the interest of Masia, has grown up. He is now in the Greek national team. And we are so proud and so happy with his joy!
Giannis turned 20 on March 5, and he has been with PAOK since 2013. He made his first appearance in the senior men's team on 17.01.2021 in a 3-0 win in Heraklion against OFI and he scored his first goal on 22.01. 2023, also a 3-0 away win over Panathinaikos. It was his first goal in his 24th game with the men's team. Perhaps it was late, hence the characteristic celebration. So far this season he has made 26 appearances, scored three goals, made three assists, 108 dribbles, and 39 interceptions.
In the so-called important statistical categories, Konstantelias has a prominent position. In contacts with the ball in the opponent's box per 90 minutes he is sixth among players not playing as a forward. In the percentage of accuracy of smart passes, he is third in the Super League. He is fourth in the Super League in the accuracy rate of forward passes. Therefore, by a difference from the second, he is the best footballer under the age of 24 who is playing in the top flight this season. Not bad at all…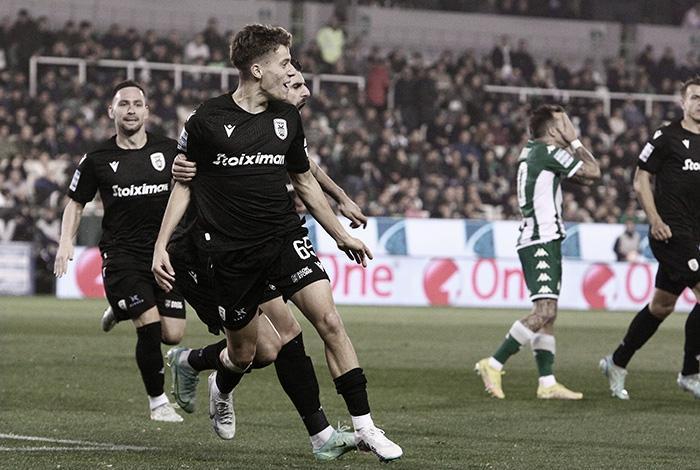 When he came from Agia Paraskevi Volou to Thessaloniki, he initially played as a forward, then moved to the center, but also played on the wings. He claims to this day that «I like to play either as a Number 10 or as a left winger, I think both suit me».
At the PAOK Academy, he worked, toiled, experienced great moments, gained valuable experiences in domestic and international tournaments, and was named MVP abroad twice. He attracted a lot of attention from a very young age, he also had the European scouts interested from very early. With the Under-17s he experienced a lost final, enjoyed a triumphant one, while with the Under-19s he celebrated two league championships, even being from a young age involved with the older players of the academy. In the 2017-18 season, from he scored nine goals and distributed seven assists in 14 matches. The following year, he scored four goals and provided 15 assists in 18 games. In the 2019-20 season – for the duration that the Under-19 league managed to be played due to the interruption caused by the pandemic – he scored one goal in seven games. As for the «half» of the 2020-2021 season, he managed to score five times and provide three assists in six matches.
In the Greece youth national teams he did not have time to compete much, given his abilities. Irony, if nothing else… Three appearances and one goal with the Under-16s, one with the Under-19s, and one with the Under-21s. His stats are on record, so we know. Because he himself doesn't care, he was never the kind of kid who noted, remembered or chased records. And when he is asked about his participation in the Greek youth setup, he does not answer exactly and confidently. «Mainly because of the coronavirus period, and a bit of an injury to my hand, as a result I didn't travel much as a youth international,» he recalls.
It doesn't matter, anyway. Just five months after he didn't hesitate for a moment after pulling on a PAOK jersey, the call came to the Greece senior national team. It was much expected, and an obvious reward, as well as an important step in his career without any doubt. We have no doubt that «the ball will stay on the ground». A football pitch, the ball, a team-family, and the trust that helps him to «bloom», and everything will simply take its course. Always, always, trust the process…