paokfc.gr/News/
Are you ready for the ultimate PAOK Football Quiz?
Are you ready for the ultimate PAOK Football Quiz?
PAOK celebrate their anniversary on 12 April. Or not? Perhaps it's on 20 April? Then, what happened on 12 April? What is the difference between inauguration day and anniversary? And when was that petition filed for the club's establishment? Non-stop questions with specific answers. Can you answer them? Are you sure? Let's check your knowledge with the new smartphone application "PAOK Football Quiz"…
12.04.2018
Creative minds never stop working, as proved previously with the video of DK that went viral. PΑΟΚ's effort to step it up all the time and upgrade services for their fans is also never ending. Therefore, the "Double-Headed Eagle's" New Media present to you their brand new smartphone application for Android and iOS, their ultimate knowledge game about PAOK: PAOK Football Quiz.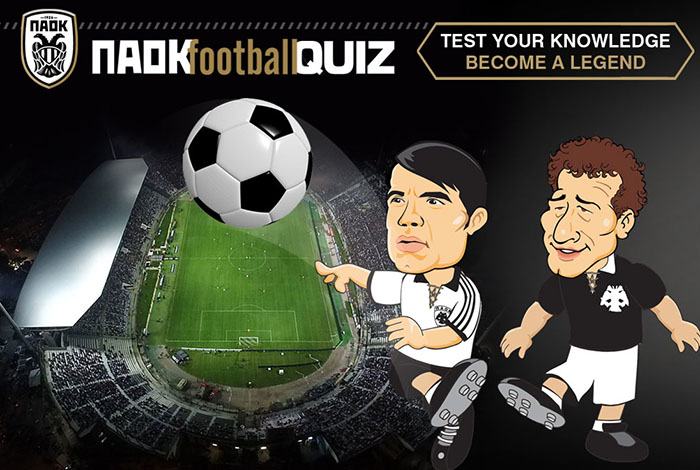 Are you ready to prove your knowledge about PAOK and measure yourself against other fans in an original football quiz? Different in philosophy and with a unique design approach, PAOK Football Quiz will quickly become your new addiction. For the first time ever, a Greek football team have their own online quiz.
Do you boast knowing everything there is to know about PAOK? It's time to prove it! The ball is in your court. Make your team, answer fast and correctly to the questions (there are more than 1.000 in this quiz), score from the penalty spot, purchase your favourite players and reach the top. It's not as easy as you might think…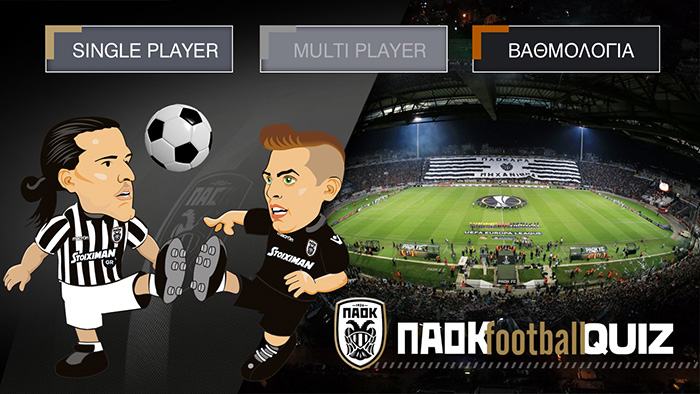 PAOK Football quiz also challenges you to prove your proficiency against PAOK fans from around the world through multiplayer. Invite/challenge your friends or face online users, prove you are better than them, climb the world rankings and win great PAOK gifts.
If you consider yourself the most loyal and informed fan of the "Double-Headed Eagle", PAOK Football Quiz is your game and your opportunity to show your worth. Download the PAOK Football Quiz for free on Play Store and App Store and start playing.
Train on single player, test your knowledge against other players on multiplayer.
Test your knowledge, become the champion
Credits
Created by Ilias Mavridis & Associates
Graphics-Animation by Zisis Papageorgiou