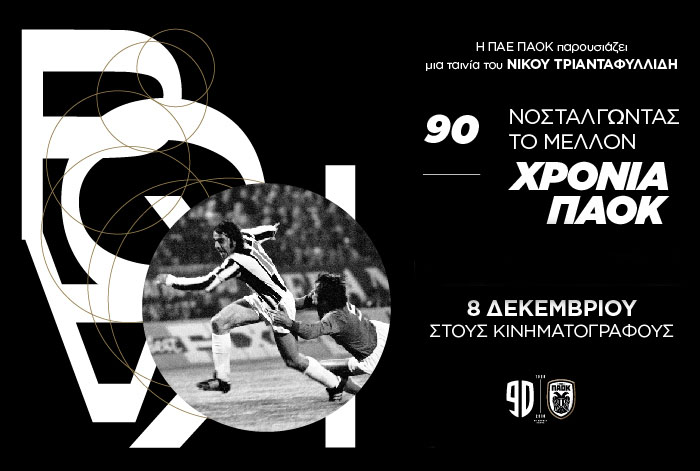 Where the club's past meets the future
Make your way through 90 years of PAOK history in 90 minutes, thanks to the special documentary feature directed by Nikos Triantafyllidis. This film earned the Greek Film Critics Association (PEKK) award in the 57th Thessaloniki International Film Festival. The documentary will be released in movie theatres on 8 December.
The 90-minute documentary "90 years PAOK: Nostalgia for the Future" isn't just a simple recording of the club's history. It's a live film diary narrating the milestones of the team along with historical and social developments. It's a journey through time and space, a cinematic essay on the club.
During the five-month long shooting, Nikos Triantafyllidis visited all the places where the club's heart beats strongly and got touching confessions by veterans and younger players, coaches, club administrators and faithful fans who honoured and continue to honour the "heavy shirt" of PAOK.
By producing the stub of your cinema ticket in PAOK FC Official Stores (Toumba Stadium and Ag. Sofia Str.), you are entitled to a 20% discount in your purchases.
The documentary will be shown –come 8 December- at the following cinemas:
In Thessaloniki:
ODEON PLATIA – Thessaloniki
STER CENTURY – Thessaloniki
CINEPLEXX One Salonica – Thessaloniki
VAKOURA – Thessaloniki
LIMANI – Thessaloniki
Outside Thessaloniki:
ODEON PARALIMNIO – Ioannina
ODEON Xanthi
ODEON Κomotini
APOLLON – Κavala
ILYSSIA – Αlexandroupoli
STAR – Veria
KRONION – Serres
ΑSTERIΑ – Giannitsa
ΕFKARPIDIS – Κaterini
ΟLYMPIOΝ – Κozani
CREW
Director: Nikos Triantafyllidis
Executive producer / Second unit director: Marina Danezi
Director of photography: Pantelis Mantzanas
Film editing: Christos Gakis
Assistant director: Christos Sarris
Original music score: ALEX K – COSTAS C aka Digital Alkemist
Sound department: Kostas Koutelidakis
Sound editing / Sound design: Dimitris Mygiakis
Archives research: Iliana Danezi, Vasilis Kosmopoulos, Kostas Pallis
Opening & Closing credits: Admine
Motion Graphics Design-VFX: Konstantina Stefanopoulou
Executive producers: Marina Danezi for NiMa Productions, Dimitris Papandreou for Fairplay
Produced by: PAOK FC