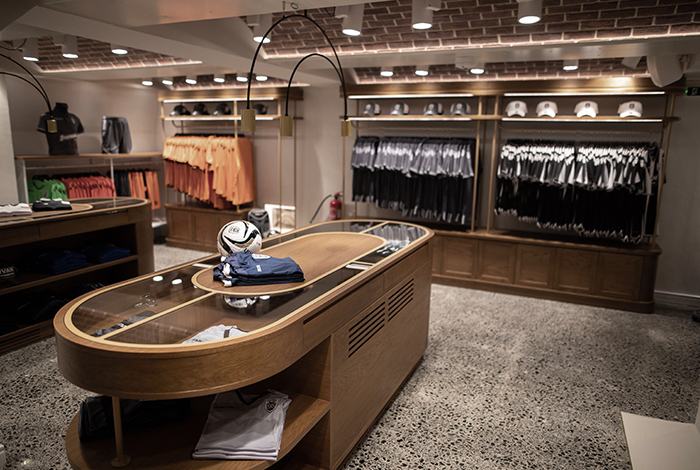 PAOK FC's two official stores are located at Toumba Stadium and in the centre of Thessaloniki. They are considered the top club stores in Greece and among the most successful in Europe.
PAOK FC Official Store at Toumba underwent extensive renovation work in the summer of 2013 and won over the fans in no time. It has even surpassed the expectations of the company supplying PAOK with their official apparel and equipment.
On matchdays, more than 2.000 fans go through the store doors, while average visits are estimated to more than 1.000 on a daily basis when there is no match at Toumba.
In December 2014, PAOK brought back to life their own corner in the heart of the city. PAOK FC City Store 1926 opened its gates in the historic red-brick building at Agia Sofia Square. Apart from being the year of PAOK's foundation, 1926 marks also the year when work was completed at Agia Sofia, the church bringing back memories of Constantinople and our roots.
In the two official stores of the "Double-Headed Eagle", our fans can enjoy a vast variety of products, including the official kits, Nike T-shirts of our team, the PFC line, PAOK watches signed by Vostok, balls, accessories and memorabilia stamped with PAOK's logo, hats, scarves, baby and home products and NIKE shoes.
Meanwhile, PAOK FC Official Mobile Store is unique in Greece. It travels to different parts of the city and outside Thessaloniki to bring the team's official products to PAOK fans who live far from the stores.
You can also buy official PAOK merchandise by clicking on www.paok-megastore.gr