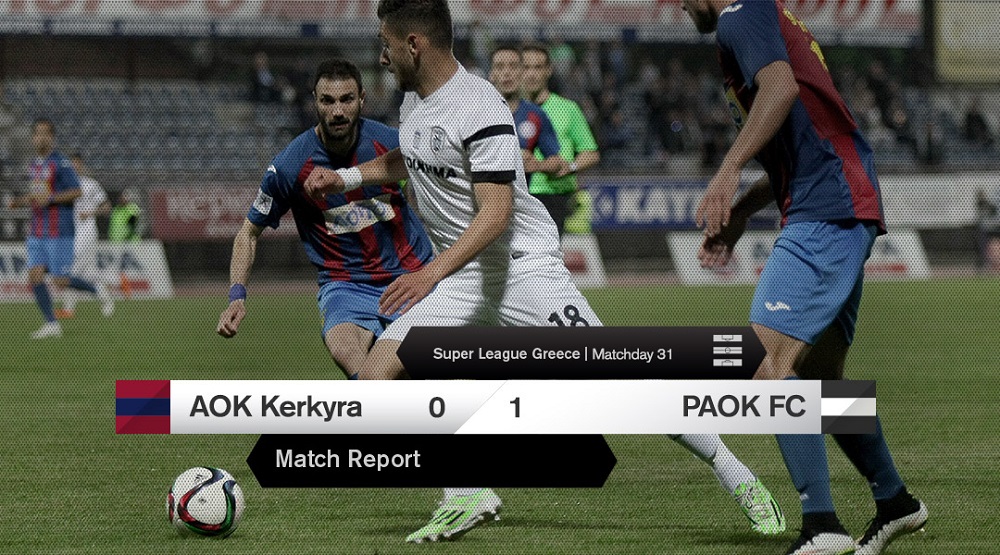 At last an away win for PAOK, no matter how stressful it was! The "Double-Headed Eagle" defeated AO Kerkyra 1-0 at Corfu, after being handed a tough test of resilience and endurance. They wasted two glorious chances to take an early lead and had to play in numerical inferiority for half-an-hour, after the dismissal of Răzvan Raț.
Giorgos Georgiadis' players were organized in their defence and didn't encounter significant problems against a very effective side. However, on the attacking front, PAOK lacked automatisms and pace, but still created two huge opportunities to take the lead in the first half. Róbert Μak and Facundo Pereyra failed to convert their one-on-one chances and render PAOK's task easier.
After the interval, pace dropped significantly and chances were scarce. The situation became tougher for PAOK when Raț was given his marching orders in the 64th minute. From that point on, players of the "Double-Headed Eagle" became more focused, while Koulouris' entrance on the pitch spiced things up in the attack.
A fine move by Athanasiadis outside the box resulted to a free-kick in a favourable position. Noboa took the ball and was looking ready to take the free-kick, but it was… hitman Ergys Kace who took it instead, remembering his days on loan at Anagennisi Epanomi, when he would execute all his team's set pieces. A clinical strike by the young midfielder saw the ball fly to the top corner of AO Kerkyra's goal, landing at the back of the net and sealing PAOK's victory!
PAOK's overall performance was demure in defence and rather anemic in attack. PAOK must work on their effectiveness ahead of the play-offs, as Klaus, Mak and Pereyra need to regain their efficiency in front of goal.
Line-ups:
AO Kerkyra: Koutzavasilis, Gomes, Diogo, Dimitrovski, Venetis, Cardozo (77′ Leal), Siontis (90′ Andreopoulos), Javito, Ghazaryan, Kontos (64′ Fábio), Markovski
PΑΟΚ: Itandje, Konstantinidis , Raț, Vítor, Tzavellas, Tziolis, Kace (90+2′ Golasa), Noboa, Mak (74′ Koulouris), Athanasiadis, Pereyra (68′ Skondras)