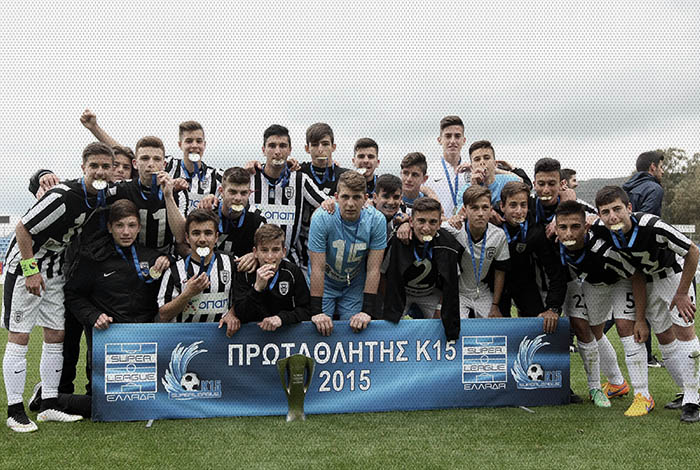 PAOK U15s clinch Super League title
PAOK U15s clinched the Super League title on Wednesday, after prevailing 1-0 over Olympiacos at Chania. Doumtsis scored the winner in the 20th minute. It was a tight affair, hard-fought and passionate, with long spells of attractive football. There was however the negative aspect of the unacceptable and abusive chants of Olympiacos' fans.
Vasilis Mittas fielded a 4-4-2 diamond formation, with Gargalatzidis and Gaitanidis as attacking duet. PAOK stormed out of the blocks in search of an early goal. It took them 20 minutes to break the deadlock.
In the 20th minute, Gargalatzidis charged from the right and fired a powerful shot, Nikopolidis cleared, but the ball landed at the feet of incoming Doumtsis who made it 1-0 for PAOK. Eleven minutes later, Chatzis' shot flew just wide. The "Double-Headed Eagle" were in control, kept the ball on the ground and combined to carve out several chances to score.
After the interval, Olympiacos gained metres on the pitch and PAOK contented themselves with counterattacking efforts. In the 46th minute, Chatzis tried his luck from outside the box, but his shot once again went inches wide. PAOK youngsters were impressive in the fast break –had they less stress and a clearer mind, they would have finished off the encounter really early.
The "Double-Headed Eagle's" defence was impeccable throughout the encounter. Mavidis cleared all danger when called to intervene, his finest moment coming deep in stoppage time, when he got the better of Voilis in their one-on-one. Being it a final, it was extremely passionate and physical and in various occasions there were displays of nerves. In the 75th minute, Olympiacos' Karimpidis was sent off for hitting a PAOK player.
The final whistle of the referee was met by PAOK players and technical staff with mad celebration.
Line-ups:
PΑΟΚ: Mavidis, Efremidis, Voutsas, Lyratzis, Maniotis, Tsigaras (46' Kyrtsos), Doumtsis (80' Kyrkou), Gaitanidis, Tsaousis, Chatzis (69' Konstantinou), Gargalatzidis.
Olympiacos: Nikopolidis, Margaritis (60' Tserkonis), Itskaras (41' Fytopoulos), Papadopoulos, Rama, Voilis, Galoupis, Katsoukis (73' Chatzipapas), Souranis (51' Karimpidis), Tsirigotis, Neofytidis.