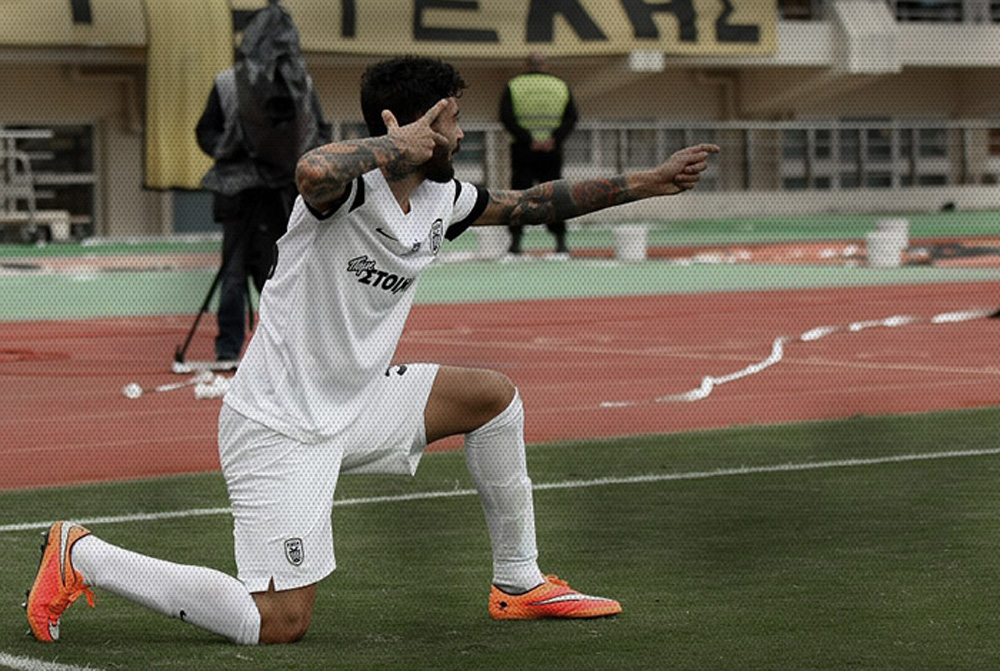 Fatigue had gotten the better of him in previous days and he barely touched the ball 6-7 times in the match. However Stefanos Athanasiadis got his bow and arrows and set the tone by netting the opener and eventually finishing off the match against Ergotelis in Pankritio Stadium with a brace (0-2).
Butit would be unfair not to mention the collective effort behind this victory. The whole team managed to put their fatigue behind them, adjusted to the requirements of a tricky game and now sit 5 points clear at the top of the standings, motivated and strong! Angelos Anastasiadis' players proved they can also record "professional" victories when needed, displaying extreme focus when fatigue doesn't permit them to kill off rivals with their incessant pressing.
The Pankritio match was indeed uneventful. The home side were balanced and rarely permitted visits to their box by the visitors, while PAOK were also holding firm, allowing Panagiotis Glykos to watch proceedings as a spectator. Răzvan Raț requested to be substituted after 33 minutes of play, as his groin was giving him pain. Six minutes later, Róbert Mak wasted a glorious opportunity for the opener but Černý got the better of him. That wasn't the case with Klaus a while later – he collected Stelios Kitsiou' excellent through-ball and gave PAOK the lead before the two teams hit the dressing rooms for the interval.
Angelos Anastasiadis had to revise his plans in the second half once again, as Mak complained of hamstring pains and was substituted off, at a time when Ergotelis were in -harmless- control. PAOK players put on a huge effort to overcome their growing fatigue that was evident on their faces and the match seemed destined to end with the visitors' slender lead. But Athanasiadis got the last word. He culminated a play initiated by substitutes Eyal Golasa and Dimitris Papadopoulos with an impressive volley and climbed to the top of the scoring charts (6 goals), while also sealing PAOK's seventh consecutive league victory.
Line-ups:
Ergotelis: Černý, Tzanakakis, Melli, Jovanović (75' Bogdanov), Lykogiannis, Kozoronis, Gentsoglou, Chanti (59' Bambam), Chalkiadakis, Youssouf, Pamlidis (59' Nosković).
PΑΟΚ: Glykos, Kitsiou, Katsikas, Miguel Vítor, Raț (33' Spyropoulos), Kace, Tzandaris, Tziolis, Salpingidis (85' Papadopoulos), Athanasiadis, Mak (67' Golasa).