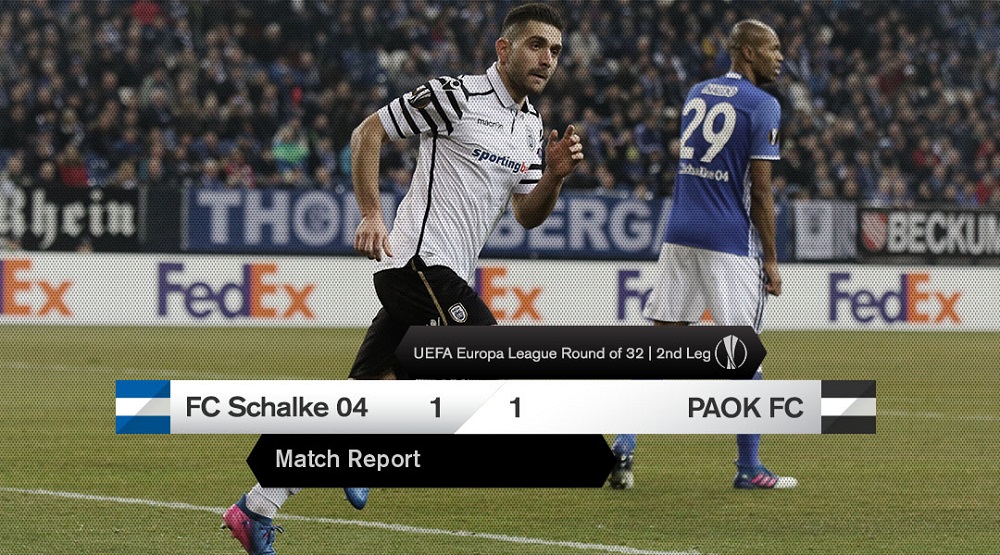 With their heads held high
PAOK edged out a 1-1 draw in Veltins-Arena against FC Schalke 04 and bowed out of the UEFA Europa League with their head held high, remaining undefeated in one of Europe's mighty grounds.
PAOK put on a fine European display and proved they didn't deserve their heavy first-leg defeat.
The "Double-Headed Eagle" hit the ground running and came close in the 9th minute, when Yevhen Shakhov tested Fährmann's reflexes with a long-range shot.
In the 17th minute, Efthymis Koulouris fired his shot into the side netting, following a free-kick by Amr Warda.
Unfortunately, the German side were first on the scoreboard, just like a déjà vu of the first leg. Midway through the half, Schöpf broke the deadlock taking advantage of PAOK's sloppy defending.
The visitors however responded almost immediately, in the 25th minute. The ball fell to Giannis Mystakidis who teed up Koulouris for a poke-in that took a deflection off Nastasić on its way into the net.
The "Double-Headed Eagle" charged forward and camped outside Schalke's box looking to take the lead, but Mystakidis's and Stelios Kitsiou's shot went wide. At the other end of the pitch, PAOK managed to withstand the pressure of their hosts.
The second half wasn't as lively as the first one, but PAOK came close to a second goal with Pedro Henrique's shot in the 69th minute. Seven minutes later, Shakhov drew a block from Fährmann with a long range effort.
Achilleas Pouggouras also passed up the opportunity to score in the dying minute with a powerful header. PAOK were lucky though in stoppage time as Kehrer's header hit the woodwork.
Their overall performance proved that the "Double-Headed Eagle" live and breathe for evenings like this. And their 5.000 impressive fans left the arena feeling bittersweet.
Line-ups:
FC Schalke 04: Fährmann, Höwedes, Naldo (70' Badstuber), Nastasić, Geis, Schöpf, Kolašinac, Meyer, Bentaleb (84' Kehrer), Choupo-Moting (56' Goretzka), Huntelaar.
PΑΟΚ: Glykos, Malezas, Crespo, Pouggouras, Kitsiou, Mystakidis (62' Henrique), Shakhov, Warda (69' Biseswar), Cimirot, Campos (78' Pelkas), Koulouris.