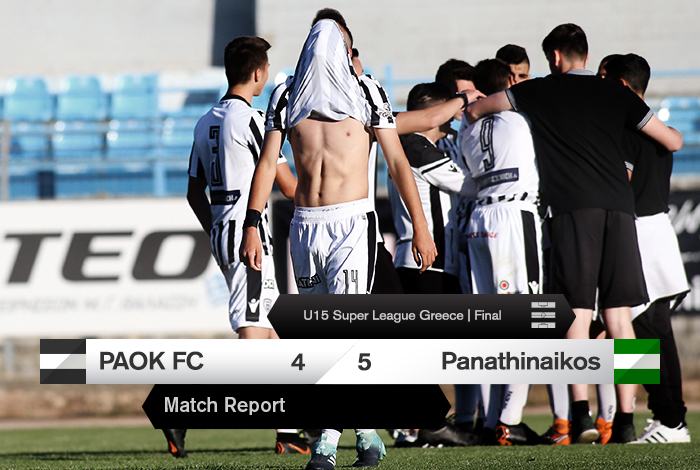 Panathinaikos U15 win an excellent final
It was a tight affair and was decided literally in the last moment, after regulation time ended goalless. The spot kicks were expertly taken and many predicted the shoot-out would last longer. All players were on target and the final was ultimately decided by Avgerinos, who saved the last penalty of PAOK, taken by Routsis.
PAOK may have lost the opportunity for a third league title in the U15 age group, but are richer in experience and confirmed that the main core of their philosophy is creative and entertaining football.
PAOK took the reins of the encounter especially after the first 15 minutes and had some attacking initiatives. Kitsakis recorded the first noteworthy action in the 17th minute, when he failed to beat Avgerinos from close up, giving Panathinaikos's goalie the opportunity to save with his feet. Seven minutes later, a powerful long-range shot by Koulierakis grazed the post before flying away. Panathinaikos also wasted the opportunity for an opener in the 38th minute, Tsioptsis coolly blocking Tsontakis's shot.
Panathinaikos leveled possession in the second half and twice came close to breaking the deadlock. On two occasions (72', 80'), Tsioptsis intervened to save PAOK from the respective efforts of Torra and Kryparakos. The "Double-Headed Eagle" had wasted earlier the opportunity to score through Kitsakis's charge in the box (69') and Manesidis's shot that went just wide (77').
Penalty takers: Stojnovic, Koulierakis, Koutsias, Manesidis, Routsis for PAOK and Frokou, Dimostheniadis, Kostopoulos, Kryparakos, Tsontakis for Panathinaikos.
The referee cautioned Torra, Kryparakos and Karakoutis.
PΑΟΚ U15: Alexandros Tsioptsis, Ioannis Karakoutis (75' Stefanos Manesidis), Konstantinos Theodoridis, Ioannis Manolioudis, Grigoris Chnaris, Konstantinos Koulierakis, Athanasios Stojnovic, Ioannis Taitzoglou (65΄ Stefanos Routsis), Georgios Koutsias, Ioannis Konstantelias (66' Konstantinos Tsagalidis), Vasilios Kitsakis.
Panathinaikos: Avgerinos, Kryparakos, Pavlakis, Karnesis, Gogouvitis, Frokou, Dimostheniadis, Kostopoulos, Tzavidas (66' Porfyropoulos), Τorra, Tsontakis.