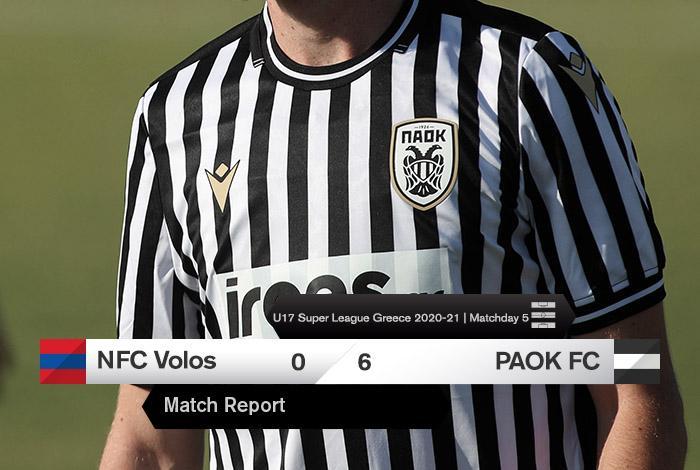 Under-17's defeat Volos 6-0
The Under-17s had an enjoyable afternoon in Volos, with Papavasiliou and Taxidis' team ruising to a rampant 6-0 victory over their opponents on Matchday 5 of the Super League.
The PAOK players showed from early in the game that they meant business, with Babouras opening the scoring after just 9 minutes with a neat, side-footed effort following an assist from Smyrlis.
Tsikos made it 2-0 in the 12th minute with a shot from just outside the penalty area, this time with the assist coming from Sinanai, and in the 18th minute it was 3-0 when Smyrlis netted with a clinical finish. Just a minute later it was Rumanchev's turn to find the back of the net with a powerful shot to make it 4-0, while Babouras then hit the ost.
The visitors went in 4-0 ahead at the break and in complete control of the game. In the second half the pattern of play did not change as PAOK continued to dominate, adding two more goals to it tally thanks to a brace from Babouras. The first strike was a slick, side-footed finish from inside the penalty area, while the second was a header in the 59th minute.
PAOK lineup:
Angelidis, Tasiouras, Sinanai, Kastidis, Zilo, Kottas, Varela (65′ Georgiadis), Tsikos (68′ Katsabis), Babouras (60′ Spirakos), Rumanchev (46′ Vasiliadis), Smyrlis (60′ Ignatiou).