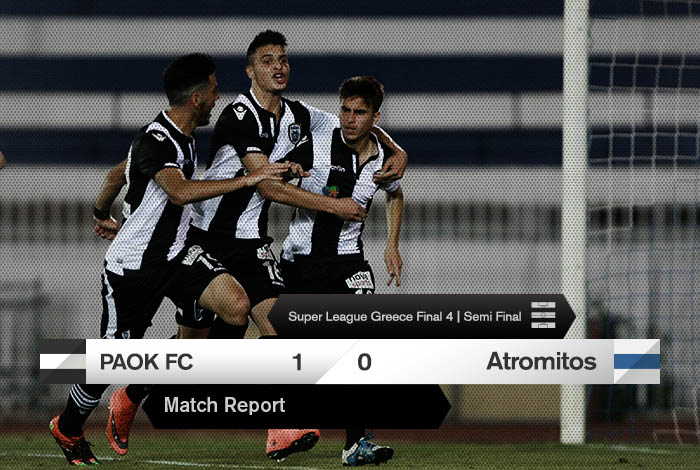 PAOK U17s progress to the final
Self-confidence, ball possession, passing game, impeccable defending were some of the traits that PAOK U17s brought out on the pitch. They prevailed over Atromitos and made their way to the final of the Super League U17, where they will face Xanthi.
PAOK U17s defeated Atromitos 1-0, thanks to an exquisite goal created by Gargalatzidis, who dribbled his opponent twice before teeing up Chatzistravos for the header. It was a hard-fought match of intense emotions, as expected with teenagers on the pitch.
PAOK could have finished off the semi-final in the 67th minute, but Chatzidimpas missed the spot-kick he had earned himself. This 1-0 scoreline doesn't do justice to the "Double-Headed Eagle's" efforts, as they wasted several chances to net more goals. Meanwhile they were rarely threatened by Atromitos.
PAOK finished the match in numerical disadvantage, as Salamouras was sent off at stoppage time.
The final against Xanthi, who prevailed 1-0 in the other semi-final, will be held on Saturday 14 May at 18:00.
PAOK U17: Siampanis, Papathanasiou (64' Lyratzis), Voutsas, Dimitriou, Tsaousis, Meletidis, Chatzistravos (87' Μiskovic), Αidonidis (76' Salamouras), Chatzidimpas (77' Υfantidis), Τzovaras, Gargalatzidis (93' Gaitanidis).
Atromitos U17: Kinalis, Αpostolou, Αslani (86' Μarkoulakis), Ιgbinoba, Lolos, Ιmeri (65' Dosis), Chatzovasilakis (80' Κitsopoulos), Ζarafetas, Κakosimos (80' Panagiotidis), Μirasgentis, Τrimmatis.