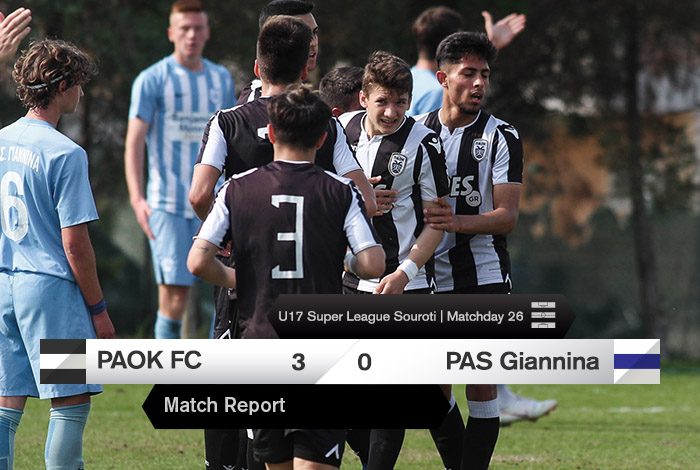 U17s dispatch PAS Giannina
The players of Alexis Alexiadis and Ebe Hagan defeated PAS Giannina 3-0 in Souroti. They have reached 51 points (11 points ahead of second-placed PAS Giannina) with one match remaining until the end of regular season, the one against AEL.
The game was a one-sided affair. The "Double-Headed Eagle" took the lead in the 25th minute, with Tzolis who made the most after the goalkeeper failed to block the ball following Karamperis's shot. Grosdis made it 2-0 in the 50th minute with a fine shot, teed up by Karakoutis. Ten minutes later, Pipiliaris sealed PAOK's 3-0 victory.
PAOK U17: Balomenos, Τsopouroglou, Αventisian (60' Κitsakis), Panagiotou (60' Κoulierakis), Κiourtsidis, Κaramperis, Κoutentakis, Grosdis (60' Κouidis), Pipiliaris, Κarakoutis (68' Tsagalidis), Τzolis (68' Gortegiani).