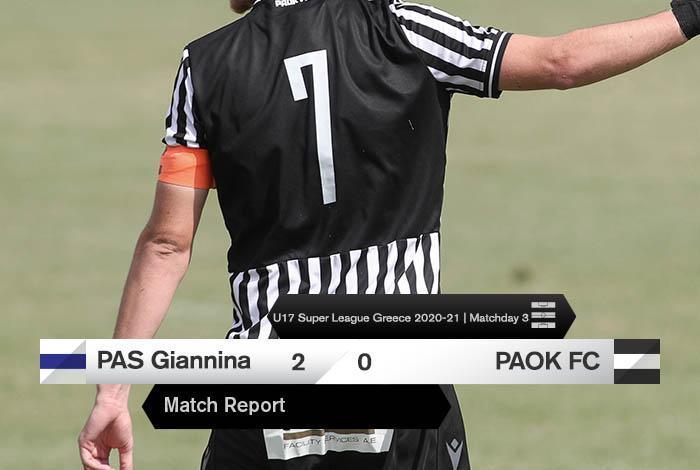 Under-17s lose in Giannina
PAOK's Under-17 slipped to their first defeat of the season on Saturday, with PAS Giannina running out 2-0 winners on the day. However, PAOK remain top of the Super League standings with six points.
The home side took an early lead in the sixth minute following some poor defending by PAOK, but despite the fact that the Double-headed Eagle responded well and fashioned numerous chances, a goal was not forthcoming. A similar pattern of play followed during the second half, but it was PAS Giannina who were more clinical in front of goal with the hosts finding the net again in the 75th minute to make it 2-0.
Papavasiliou's and Taxidis' players could not find a way to respond and get back into the game from that point on, and it was the home side who almost came close to scoring a third goal late on when they were awarded a penalty with three minutes left. However, PAOKgoalkeeper Angelidis managed to save the resulting spot-kick.
PAOK line-up: Angelidis, Tasiouras, Chordakis (46' Vasiliadis), Sinanai, Zilos (65' Kastidis), Kottas, Varela, Tsikos, Iordanidis, Rmanchev (73' Goumas), Babouras (55' Martos).