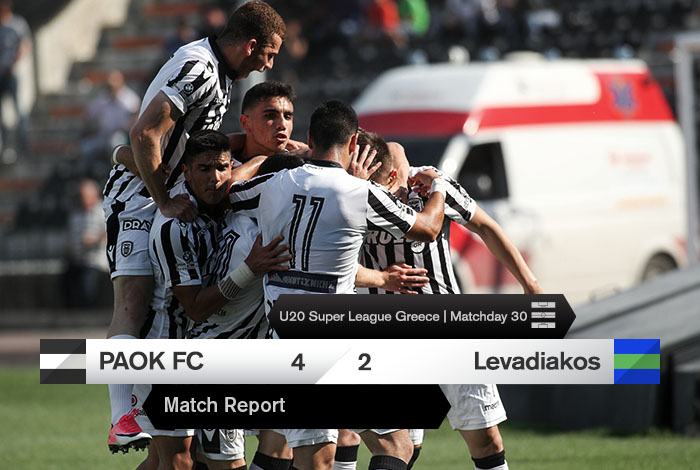 In a high-paced game, Levadiakos started strongly and took the lead after 12 minutes of play, with a fine effort by Ioannidis. PAOK replied immediately though, equalizing through a Markovski header in the 19th minute.
The visitors weren't discouraged and regained their lead two minutes later, with Ioannidis's second goal in the game. Pablo García's troops however came up with the answer again. In the 25th minute, Lyratzis provided the cross and Gargalatzidis headed the ball home to make it 2-2.
After the interval, the "Double-Headed Eagle" emerged on the pitch determined to finish off the encounter and claim the league trophy. In the 67th minute, Markovski gave PAOK the lead with the goal at his mercy. Five minutes later, following Tsaousis's free-kick, Michailidis made it 4-2 with a header and sealed victory.
After the final whistle, the young players of PAOK celebrated their huge success and the fans acclaimed the team and the coaching staff.
PAOK U20 line-up: S. Papadopoulos, Lyratzis, Tsaousis, Diamantis, Michailidis, Tsiggaras, Balogiannis, Chatzistravos, Kozak (60' Tzovaras), Markovski (86' Papathanasiou), Gargalatzidis.