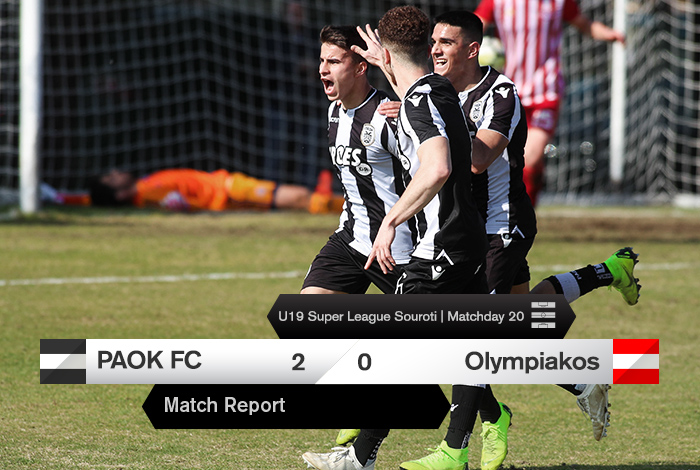 PAOK U19s claim derby win
PAOK took the reins of the encounter right from the start, claiming possession and not allowing Olympiakos to settle on the ball. They came close to scoring with Gaitanidis, Michailidis, Gargalatzidis and Doumtsis, but it was their skipper, Chatzistravos, who broke the deadlock in the 29th minute.
The two sides hit the locker rooms for the interval with the "Double-Headed Eagle" firmly in command, having wasted several opportunities to score and the visitors only attempting one long-range shot.
Home victory was all but sealed 15 minutes into the second half. Chatzistravos completed his brace with a fine finish following Gaitanidis's shot on woodwork.
Olympiakos tried to react, but the pupils of Pablo García never lost their focus and managed to keep their rivals at bay until the end and record one of the most significant victories of the season.
PAOK U19: Papadopoulos, Lyratzis, Tsaousis, Diamantis, Michailidis, Tsiggaras, Balogiannis (87' Salamouras), Doumtsis (77' Panidis), Gaitanidis, Gargalatzidis (63' Τzovaras).