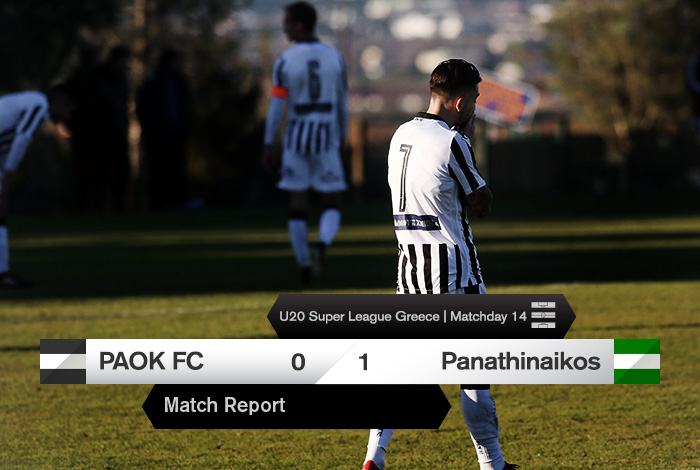 Cold defeat by Panathinaikos for the U20s
The "Double-Headed Eagle" started strongly into the encounter and almost got the lead in the 3rd minute, when Gargalatzidis was set free from Siampanis's long cross and lifted the ball over the keeper. However Panathinaikos's defenders managed to clear the ball before it crossed the line. Six minutes later, the "Green's" goalkeeper produced a difficult save to deny Balogiannis's shot, while Gargalatzidis misfired his shot in the 13th minute.
Panathinaikos reacted and forced an excellent save by Siampanis in the 21st minute. At the stroke of half hour, the young goalkeeper came out of the six-yard box in order to deny another promising Panathinaikos' attack.
After the interval, PAOK were in control again, enjoying possession and dictating pace, but were finding it difficult to create danger in the opponents' box. The visiting side, who opted for a physical game and flirted with cautions, were content to defend and explore their counterattacking options.
In the 77th minute, after a free-kick and a first header towards the six-yard box, the ball landed at the feet of Shehu who gave Panathinaikos the lead. From that point on there was hardly any football, as tough tackles interrupted the flow of play. The visitors scored a second goal that was ruled out on the offside rule.
PAOK U20s squandered a great opportunity to climb to the top of the standings and reach Panathinaikos, who are now 6 points ahead.
PAOK U20: Siampanis, Dimitriou, Michailidis, Diamantis, Lyratzis, Balogiannis, Maniotis (86′ Vrakas), Chatzistravos, Tzovaras (76′ Papadopoulos), Kozak, Gargalatzidis (61′ Doumtsis).