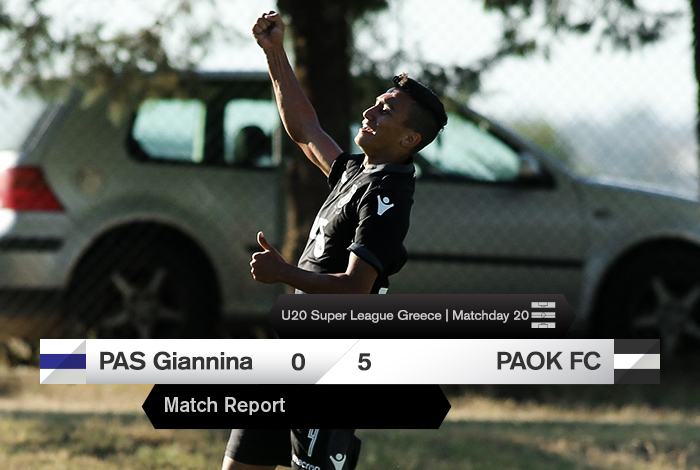 Emphatic win of the U20s in Ioannina
PAOK started strongly into the encounter and took the lead with barely 9 minutes gone. Lyratzis crossed from the right, a PAS Giannina defender used his hand to stop the ball's trajectory and the referee pointed to the spot. Lyratzis converted the penalty himself.
Pablo García's troops didn't drop their pace and continued pressuring up for more goals. Their efforts paid off in the 23rd minute. PAS Giannina keeper's blunder allowed Kozak to double PAOK's lead with a simple tap in.
Lyratzis and Kozak combined for the third goal, in minute 31. The latter provided the assist and the former made it 3-0 with a sharp shot.
After the interval, rain proved an obstacle for the footballers. At the stroke of the hour, PAOK were presented with an additional problem. Michailidis committed a "professional foul", pulling the shirt of an opponent who was on his way to score, and was given his marching orders.
Despite their numerical disadvantage, the "Double-Headed Eagle" scored twice more. In the 64th minute, after a corner, Gargalatzidis saw the ball landing at his feet and didn't think twice before making it 4-0 for the visitors. Four minutes later, he completed his brace with an excellent finish following an individual move.
PAOK U20: Siampanis, Lyratzis, Τsaousis, Diamantis, Michailidis, Maniotis, Τsiggaras, Chatzistravos (46' Gaitanidis), Papadopoulos (60' Doumtsis), Κozak (68' Chatzidimpas), Gargalatzidis.