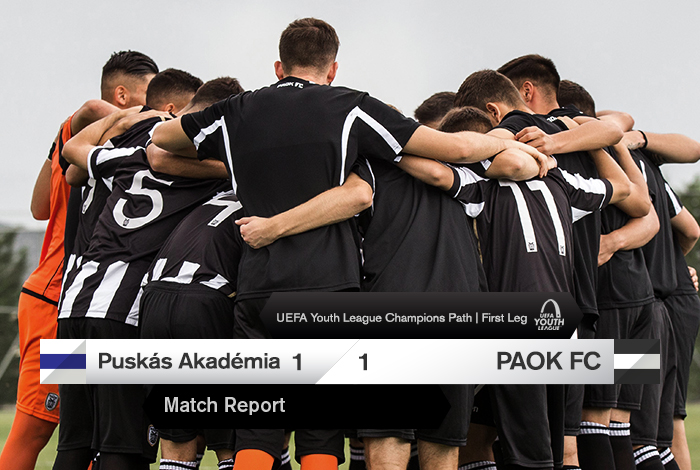 PAOK U20s edged out a 1-1 draw in Hungary against Puskás Akadémia Felcsút in their first European encounter and now have the upper hand ahead of the UEFA Youth League second leg.
After a 97-minute hard-fought encounter, PAOK held Puskás Akadémia Felcsút to a 1-1 draw in Hungary. The two sides will face off for qualification in the second leg of Kaftanzoglio in 19 October.
Pablo García's troops played good football and rose to the occasion against a very tough rival. The final result now puts them in the driver's seat.
Both sides started strongly and opted for attacking football right from minute one. In the first ten minutes, PAOK were more threatening and lost a huge chance through Mattheou, who couldn't poke the ball close range, while also engaging in some long-range shots. Afterwards the Hungarians took the initiative, won some consecutive corners and came close to scoring, Muca coming to the rescue with a fine save in the 35th minute. In the last minutes before the interval, PAOK had three good chances to break the deadlock, but Chatzistravos and Aidonidis (twice) missed.
In the second half, the complexion of the encounter remained unchanged. Puskás Akadémia converted their first decent opportunity in the 58th minute. PAOK players didn't give up and looked for the equalizer. It came in the 75th minute through Stathopoulos's close-range shot. García's team tried to take advantage of the momentum but to no avail. The 1-1 scoreline remained until the end, as Kragiopoulos missed two opportunities just before the final whistle.
PAOK line-up: Muca, Dimitriou, Dodontsakis, Papathanasiou, Gialamoudis, Meletidis, Αidonidis, Chatzistravos (88′ Κyrillidis), Chatzidimpas (73′ Papadopoulos), Μattheou (79′ Κragiopoulos), Stathopoulos.
The Prime Minister of Hungary and the president of the Hungarian Football Federation attended the encounter from the VIP booth of the "Pancho Arena".