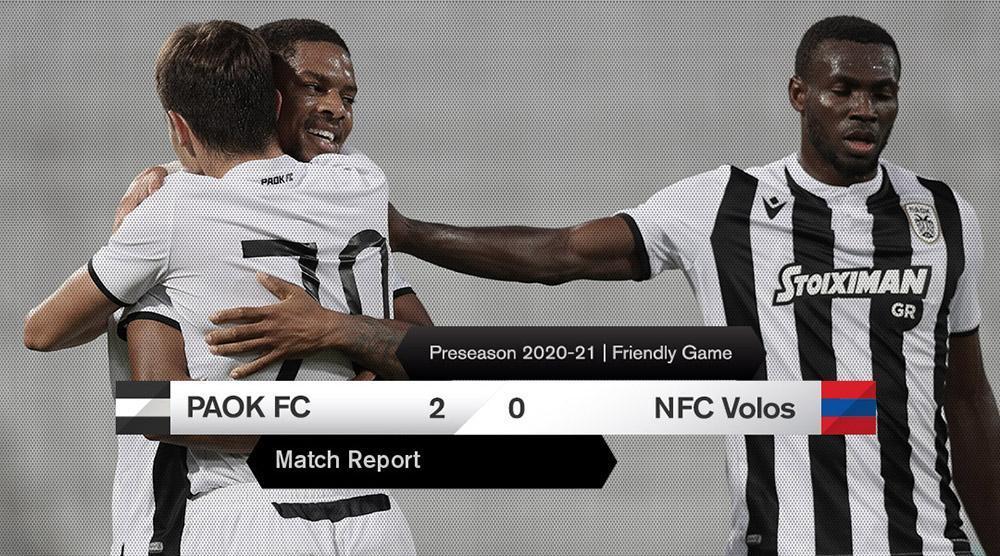 PAOK raise the tempo and beat Volos
PAOK's second friendly of the 2020-21 pre-season brought the club's first win as the Dikefalos tou Vorra defeated Volos at the Panthessaliko Stadium.
In the team's final day of its stay in Magnesia, Abel Ferreira and his coaching staff were able to test out various players and systems, as well as take plenty of positives away ahead of the upcoming UEFA Champions League second qualifying round tie against Besiktas.
In the first half, PAOK produced a confident display, were solid at the back, and kept the ball well. However, they could not find a breakthrough up front with home goalkeeper Garavelis rarely called into action.
In the second half, the Dikefalos tou Vorra upped their tempo, pressed further up the pitch and began to chase the game more. This had the effect of creating a plethora of opportunities and the team managed to find the back of the net on two occassions. The first through  Akpom , who scored a somewhat bizarre goal when the ball ricocheted off his body after a shot by Esiti, and the second strike came from Koutsias , who netted his first goal for the senior side.
PAOK now return to Thessaloniki and all of the squad – including coaches and officials – will ubdnergo Covid-19 tests on Tuesday (11.08) followed by having the rest of the day off. The players will be back in for training on Wednesday (12.08) at the club's Nea Mesimvria training base.
PAOK team lineup:
Paschalakis (46′ Zivkovic ), Michailidis (60′ Tsiggaras), Varela (46′ Mihaj ), Ingason (46′ Crespo ), Limnios (60′ Matos ), Balogiannis (70′ Tsaousis), Schwab (46′ Esiti ), El Kaddouri (60′ Wernbloom), Tziolis (46′  Akpom ), Jaba (31′ Biseswar , 60′ Pelkas), Swiderski (60′ Koutsias ).
* Dimitris Giannoulis was withdrawn from the matchday sqaud as a precaution after feeling some discomfort in his back.