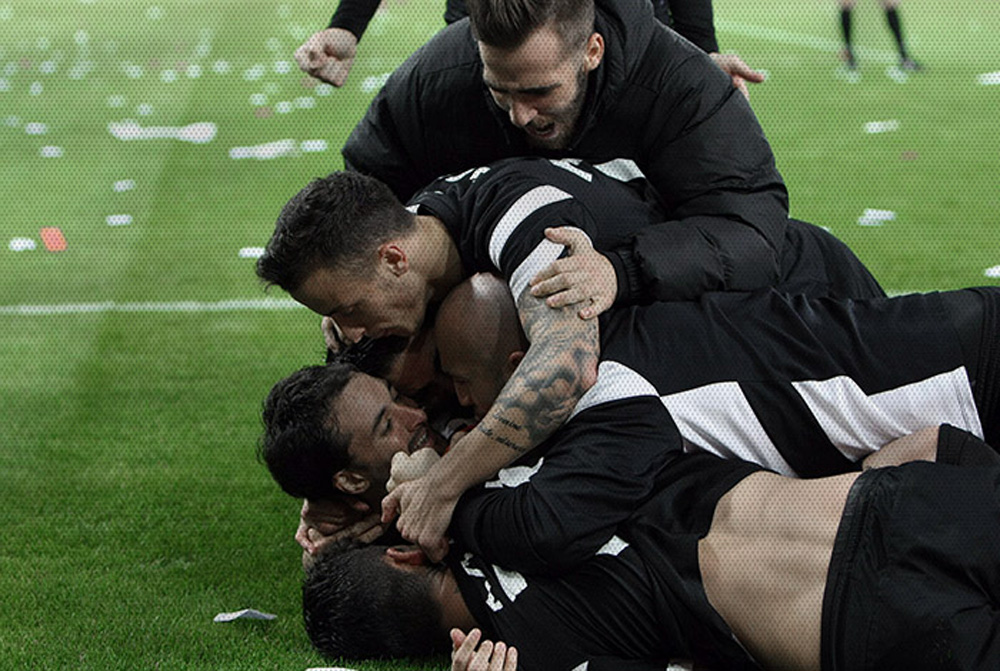 Proud PAOK overcame all adversities and prevailed 2-1 at "Georgios Karaiskakis" Stadium fair and square, extending their lead to 5 points from second-placed Olympiacos. Displaying passion and exceptional defensive intensity, the "Double-Headed Eagle" held Olympiacos in leash and managed to get a "title" three-pointer based on the impeccable overall performance of the whole team.
Olympiacos settled on the ball in the opening 20 minutes of the encounter, but could not make much creative capital out of the situation, as our defence (with Tziolis having retreated at centre-back due to a full absentees' list) functioned like clockwork and were seldom in peril –except for two long-range efforts of the home side.
After the 20th minute, it became an increasingly evenly-balanced encounter as PAOK launched numerous attack on the hosts' goal. In the 25th minute, Stefanos Athanasiadis produced a dream pass to set up Facundo Pereyra, but the latter's goal was disallowed on the offside rule.
PAOK insisted however and were first on the scoreboard in the 43rd minute. Following a combination with Dimitris Salpingidis, Giannis Skondras delivered the ball across the goal area and Athanasiadis was there for the simplest of close-range finishes to silence the "Georgios Karaiskakis" crowd. Two minutes later, Olympiacos leveled through David Fuster's volley in a corner set piece. During the goal celebration Luka Milivojević kicked Panagiotis Glykos and the latter fell on the ground, but the referee waved "play" and a few seconds later he sent the two sides to the dressrooms for the interval.
PAOK got to a dream start in the second half. They signaled their intentions in the 48th minute, Salpingidis' drive forcing a clearance by Roberto. Two minutes later however, Ergys Kace's long ball found Pereyra, who let it bounce once on the pitch before unleashing a powerful shot to beat the Spanish goalkeeper.
Dimitris Papadopoulos came off the bench in the 56th minute to take Skondras' place, as PAOK's right back had injured his shoulder blade. Salpingidis retreated in a full back position, a move that would prove key for the remainder of the encounter, Salpi's excellent display "armouring" the right flank.
Glykos was up to the task whenever called to intervene, PAOK's defence left no room for manoeuvre to Olympiacos and the visitors would break on quick and dangerous counters to enhance their lead. They did just that deep into stoppage time, Fanis Tzandaris beating Roberto, but the goal was erroneously disallowed on the offside rule –the young midfielder of PAOK was well covered by his opponent.
The final whistle found the "Double-Headed Eagle's" players celebrate a huge victory and Angelos Anastasiadis shift his focus to the next league game against SKODA Xanthi. He wants everyone to realize that no feat can be meaningful without consistency.
Line-ups:
Olympiacos (Míchel): Roberto, Elabdellaoui, Avlonitis, Abidal, Masuaku, Maniatis (61′ Kasami), Milivojević, Afellay (61′ Dossevi), Fuster, Domínguez, Mitroglou (67΄ Benítez)
PΑΟΚ: (Anastasiadis): Glykos, Skondras (56′ Papadopoulos), Tziolis, Vítor, Raț, Tzandaris, Golasa, Kace (81′ Martens), Salpingidis, Pereyra (91' Pozatzidis), Athanasiadis