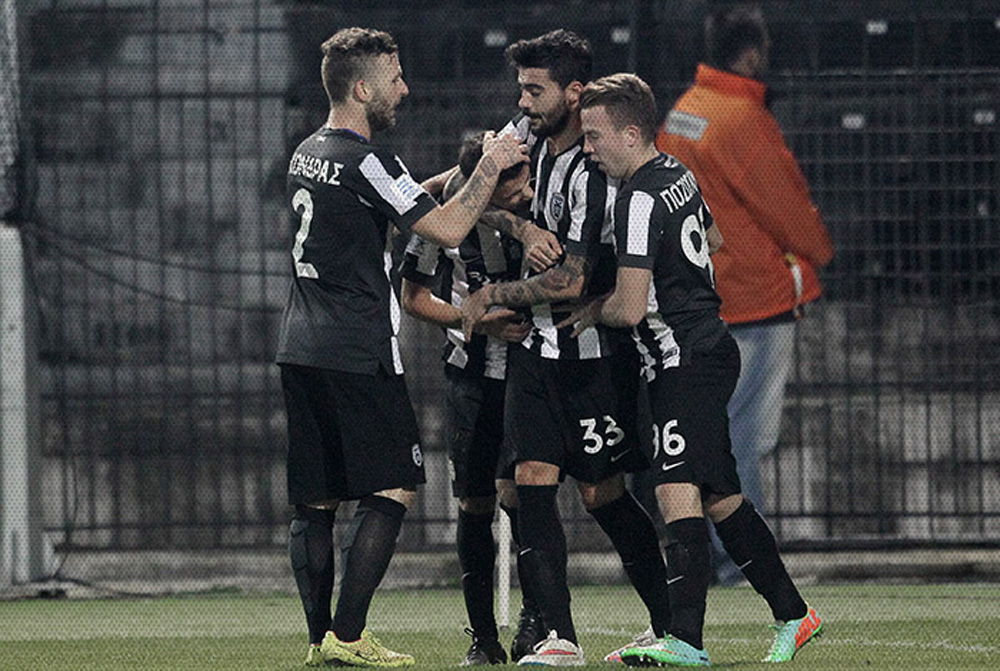 All's well that ends well…
PAOK walked on thin ice against AO Kerkyra, but their quality eventually decided the encounter. It was a hard-fought yet important victory for the "Double-Headed Eagle" who remain four points clear of Olympiacos, taking advantage of the home factor and kicking off their last week of football in 2014 on the right foot.
Angelos Anastasiadis opted for surprises and fresh feet, fielding Stelios Pozatzidis and Efthymis Koulouris in his starting line-up, Nikos Spyropoulos covering for Eyal Golasa and Dimitris Papadopoulos linking up with Facundo Pereyra in attack, in a 3-5-2 formation. He switched to a 4-3-3 soon after kick off as PAOK were looking in trouble against AO Kerkyra's players who had closed down all spaces and were getting increasingly dangerous through counterattacks. The first half saw PAOK enjoying more possession, but their visitors get more opportunities to score.
Angelos Anastasiadis experimented a lot shuffling his pack and introduced Stefanos Athanasiadis and Răzvan Raț in the second half. As a result, PAOK's attacking performance improved considerably. Receiving Papadopoulos' pass in the 58th minute, Pereyra swerved and finished with aplomb for the opener. AO Kerkyra reacted by taking control of proceedings. After coming close twice but getting denied by Panagiotis Glykos, they equalized on the third time of asking through Nayar (70').
The final stretch of the match was nothing short of a thriller, as Stelios Pozoglou was also introduced in the encounter to help PAOK get their winner. In the 82nd minute, Ergys Kace's long-range belter seemed to decide the match. But proceedings were far from over. AO Kerkyra continued pressing for the equalizer and almost got it deep into stoppage time with a direct free-kick that was denied by the post and then Glykos cleared the resulting rebound…
It was one of these evenings when victory tastes sweeter, because it was a hard-fought affair. This win will boost the team's self-confidence as they got the three-pointer despite not rendering well…
Line-ups:
PΑΟΚ: Glykos, Skondras, Tzavellas, Vítor, Spyropoulos (Raț 46′), Pozatzidis (Pozoglou 76′), Kace, Tzandaris, Pereyra, Papadopoulos, Koulouris (Athanasiadis 46′)
ΑΟ Kerkyra: Šetkus, Venetis, Gomes, Dimitrovski, Diogo, Cardozo (Andreopoulos 65′), Zorbas, Nayar (Kritikos 77′), Kontos, Kajkut, Javito (Markovski 65′)