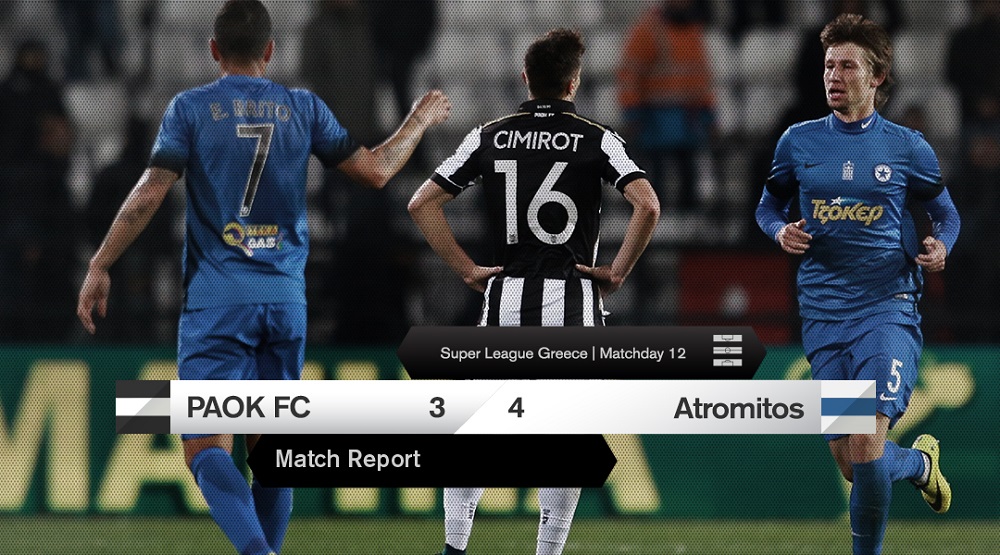 Made to pay double for every mistake
PAOK not only let victory slip through their fingers, but suffered a shock defeat to Atromitos on matchday 12 of the Super League, after an eventful match. The visitors practically carved out two decent chances to score and were rewarded with four goals.
PAOK experienced their most weird evening of recent years in Toumba. They were excellent in the first half, transformed after the break, had to make three forced substitutions and finish the game with 10 players on the pitch…
The "black-and-whites" started into the match with all systems go, taking the lead after just 3 minutes. Garry Rodrigues met Dimitris Pelkas's cross with a header to beat the rival goalkeeper.
In the 12th minute, Panagiotis Glykos was substituted by Željko Brkić. Fifteen minutes later, Rodrigues turned to provider, collecting the rebound from a blocked shot by Gojko Cimirot and feeding Efthymis Koulouris who coolly dispatched the ball for PAOK's second goal of the evening.
The young striker wasted a glorious opportunity to make it 3-0 for the "Double-Headed Eagle", sending the ball just over the crossbar in the 30th minute. It was just one of numerous efforts PAOK made to extend their lead until the end of the first half –one of them being a shot on crossbar by Koulouris in the 40th minute. Just three minutes later, Djalma Campos showed his impressive skills charging from the left and firing to score, but Gorbunov saved in extremis.
Anthony Le Tallec pulled one back for Atromitos with a header from the six-yard box in the 56th minute. PAOK restored their two-goal lead with Giannis Mystakidis who took advantage of Gorbunov's failure to hold on to the ball after Giorgos Tzavellas's direct free kick in the 69th minute.
But it all went downhill from there. In the 73rd minute, José Alberto Cañas was given his marching orders after using his hand to prevent the ball from crossing the goal-line. PAOK were one man down and saw their lead reduced to one goal, after Umbides converted the penalty. And their problems were far from over. Substitute Papadopoulos made it 3-3 from up close.
The coup de grace for the "Double-Headed Eagle" came deep in stoppage time through Tonso, whose individual effort made it 3-4 and gave an unexpected victory to Atromitos.
Line-ups:
PΑΟΚ: Glykos (12' Brkić), Tzavellas, Matos, Varela, Leovac, Cimirot, Pelkas (69' Shakhov), Cañas, Campos, Rodrigues (46' Mystakidis), Koulouris.
Atromitos: Gorbunov, Bíttolo, Lazaridis, Fytanidis, Kivrakidis (46' Kontoes), Baga, Umbides, Limnios (82' Papadopoulos), Tonso, Zisopoulos (55' Brito), Le Tallec.