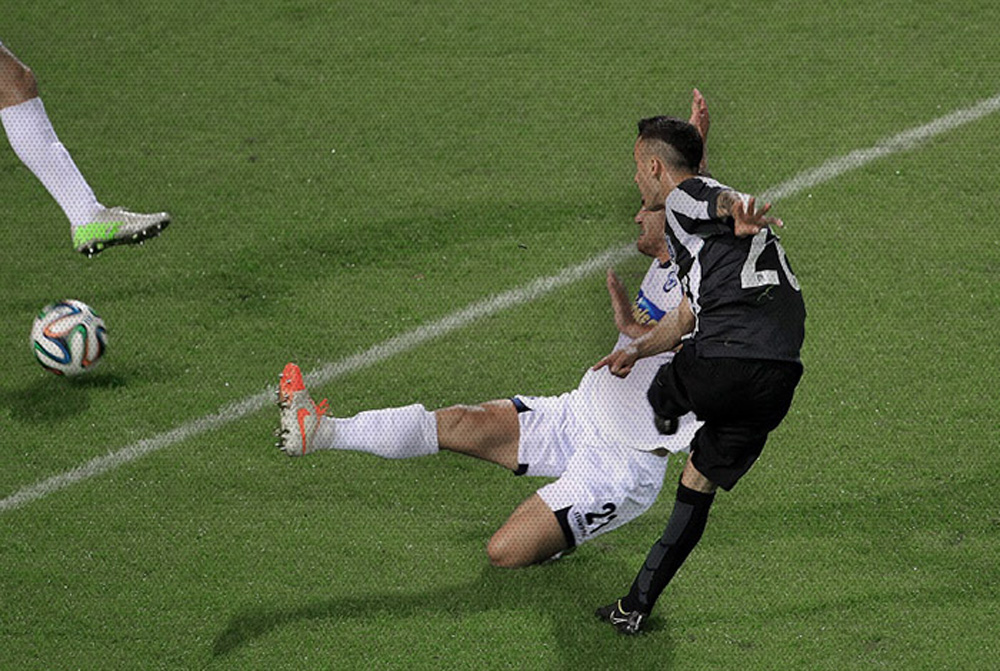 No break in PAOK's winning mode…
Despite having to cope with the inertia of the three-week break and coming up against a good team that had just recorded a famous win and hardly conceded any goals, PAOK kept on the momentum, picking up from where they had left off before the October break. They prevailed 2-1 over Atromitos. Had they not been reduced to 10 players inexplicably, their evening would have been much easier…
Angelos Anastasiadis' troops came strongly out of the gates and got control of proceedings. Boosted by their fervent supporters in Toumba, they settled for a high tempo, confining Atromitos at their own half. There weren't big opportunities to score in the first minutes, but PAOK scored with less. Passing the ball around Atromitos' box with Alexandros Tziolis in command –he deservedly got MVP honours after a great match- and Fanis Tzandaris and Ergys Kace securing all loose balls, breaking the deadlock was just a matter of time for the home side.
Kace made the most of the space conceded outside the area and fired a left-foot shot that Cennamo failed to hold to score the opener in the 27th minute. Two minutes later, Răzvan Raț sneaked in between Atromitos' central defenders and received an inch-perfect cross by Tziolis from 40 meters out. The Romanian full back lobbed his header to beat Cennamo for PAOK's second goal and celebrated wildly…
The "Double-Headed Eagle" tried to extend their lead before the interval and kept the same rhythm in the beginning of the second half, despite losing Róbert Mak to injury. Against the run of the play they conceded a goal paying their defence's only lapse of concentration in the match. However the complexion of the encounter didn't change –until the 76th minute. That was when referee Tasos Sidiropoulos misinterpreted Miguel Vítor's challenge for the ball as a violation and gave him his marching orders with a second caution – a debatable decision.
Despite their numerical inferiority, PAOK were barely threatened, they withstood any pressure and could have even extended their lead. The goal attempts record reads 12-2 and the final result doesn't do justice to the domination of the home side. However their victory keeps them at the top of the standings after six matchdays played and in high morale.
Line-ups:
PAOK: Glykos, Skondras, Vítor, Katsikas, Raț, Tzandaris, Kace, Tziolis, Mak (51′ Golasa), Salpingidis (91′ Koulouris), Pereyra (69′ Martens).
Atromitos: Cennamo, Nastos, Kontoes, Fytanidis, Tavlaridis, Dimoutsos (77′ Tatos), Pitu Garcia (57′ Georgiou), Napoleoni, Umbides, Karamanos (57′ Agouazi), Papazoglou.