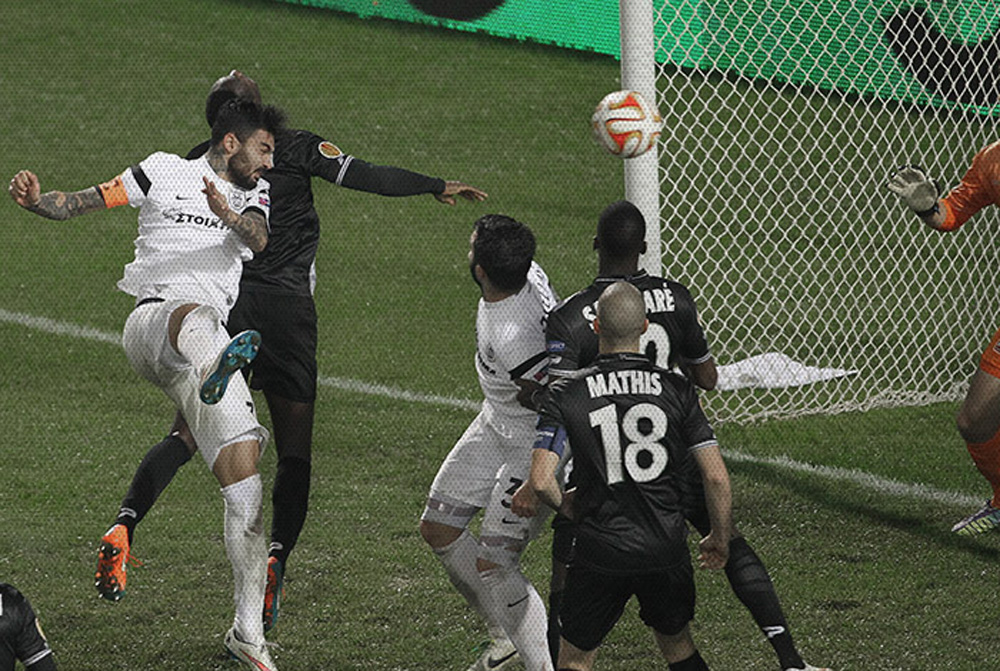 PAOK had the opportunity to qualify once more to the last 32 of the UEFA Europa League, but didn´t make it. Their continental journey was cut short by EA Guingamp who prevailed 2-1 at Toumba Stadium on Thursday. The French side were not superior to PAOK, but took advantage of the fact that even a draw would see them through –organized around their tight defence, they left the creation initiative to the home outfit.
Their task became all the more simpler as they got first on the scoreboard after just 7 minutes of play. Claudio Beauvue made the most of PAOK's sloppy defending of a Thibault Giresse free-kick and beat Panagiotis Glykos with a fine header. PAOK were struggling to find a crack through Guingamp's double defensive line and didn't create that many chances. They did get however an opportunity in the 22nd minute, when Stefanos Athanasiadis was awarded a penalty in his attempt to cross towards the goal area. PAOK's skipper stepped to take the spot kick and scored his 17th goal in Europe to mark his 200th match for the "Double-Headed Eagle".
Until the interval, the flow of play was interrupted by niggling fouls on both sides. Scoring chances were scarce, apart from a shot on woodwork by the French. In the second half, Angelos Anastasiadis' players were still unable to encounter spaces leading to Jonas Lössl's area. They carved out one good occasion though, but Athanasiadis was denied by the crossbar. Deep-lying Guingamp proved clinical and they scored in the 83rd minute on the break with Beauvue, whose presence was decisive in both encounters against PAOK.
After the final whistle, everybody at PAOK's camp was disappointed with the way the evening unfolded, however the fans applauded the team for their effort. The players spontaneously gathered at the centre of the pitch and took an oath to put on an even greater effort for the remainder of the season…
Line-ups:
PΑΟΚ: Glykos, Skondras, Vítor, Tzavellas, Raț, Golasa (53′ Martens), Kace (77′ Maduro), Tzandaris, Pereyra (61′ Papadopoulos), Salpingidis, Athanasiadis
EA Guingamp: Lössl, Jacobsen, Angoua, Sorbon, Lévêque, Sankharé, Beauvue, Mathis, Yatabaré (46′ Pied), Giresse (86′ Dos Santos), Mandanne (75΄Kerbrat)