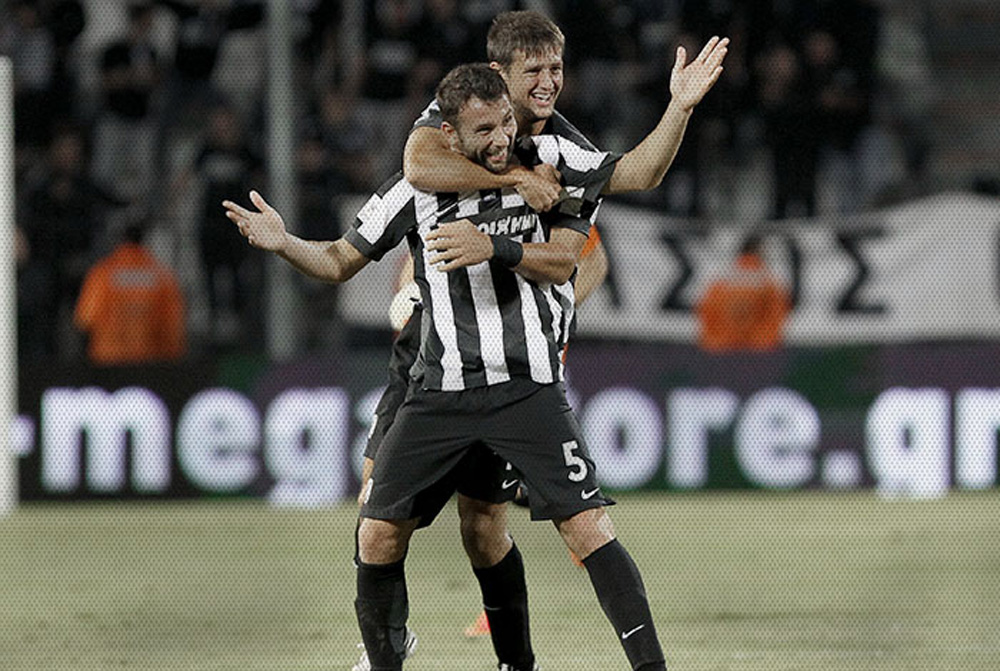 Storming out of the blocks
It was a tough match in theory. Not only because of the rival's history or the recent defeat by Apollon Kalamaria that was a blow following the strong performances on the domestic and European front. There was also the prospect of first place in the standings that could cause vertigo. There was also the return of the fans after the domestic ban, on a day that they rendered tribute to the fans that lost their lives at Tempi. All those factors could weigh on the shoulders of Angelos Anastasiadis' players.
However on the pitch the situation unfolded quite differently. All these factors boosted the troops of PAOK, who stormed out of the blocks and took a stronghold on the encounter in order to climb to first place of the standings. PAOK are in form, they are confident, have a clear game plan and "strangle" their rivals with their pressing and running. Furthermore, when the rivals pick risky tactics –as did OFI with passes between their goalkeeper and the central defenders-, PAOK are relentless. With just 81 seconds on the clock, Răzvan Raț scored the opener and… opened the floodgates.
PAOK lined up many chances to extend their lead afterwards, but could only do so in the 27th minute, with a delicious right-foot shot by Róbert Mak sending the ball at the back of the net with a slight bounce. The home side stepped on the throttle and scored twice more before the interval. In the 43rd minute, Raț expertly converted the free kick awarded to Giorgos Katsikas (!) outside the box. The Romanian player came one inch away from becoming the first left full-back in history to score a hat-trick, but he was denied by the post, after collecting the rebound from a shot on woodwork by Fanis Tzandaris following a back-heel effort by Stefanos Athanasiadis. Klaus got the rebound from Raț's shot on post and scored PAOK's fourth against OFI's dizzy defence.
In the second half, PAOK's pace was considerably lower –perhaps they did so unconsciously with several tough encounter following. Even so however they still carved out classic opportunities to extend their lead (Eyal Golasa, Dimitris Papadopoulos and Giannis Skondras) and were acclaimed by 15.000 attending fans.
It's tough to pinpoint the best of PAOK in each encounter, as collective play is the star on each occasion. One could of course make a case for Raț, Mak, Salpingidis, Skondras, Tziolis or Katsikas who is oozing self-confidence boosted by his coach's faith in him. Singling those players out would be unfair to the rest, as the whole team served Anastasiadis' plan faithfully. Following the European encounter in France, PAOK next visit "Georgios Karaiskakis" Stadium to defend their 3-point lead over Olympiacos after their strong start to the league.
Line-ups:
PΑΟΚ: Glykos, Raț, Skondras, Vítor, Katsikas, Tzandaris (69′ Papadopoulos), Tziolis (77′ Martens), Kace, Salpingidis (69′ Golasa), Mak, Athanasiadis.
OFI: Loria, Banousis (46′ Koutsianikoulis), Moniakis, Méïté, Tripotseris, Adeleye, Makris (58′ Razak), Kalajdžić, Lampropoulos, Petropoulos, Perogamvrakis (46′ George)