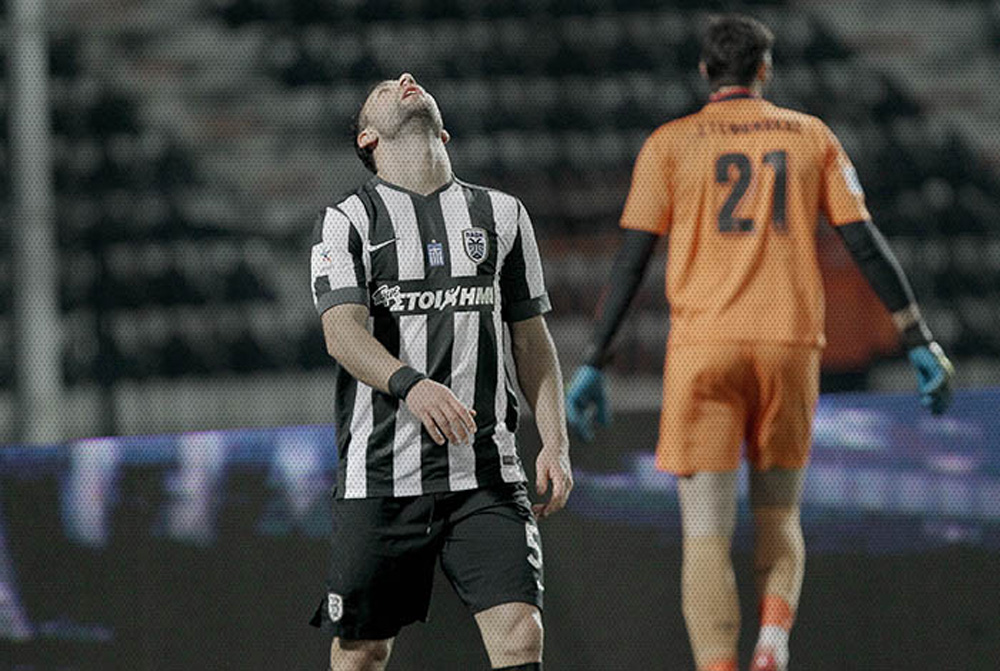 Everything turned upside down…
PAOK were aiming for a win that would send them provisionally at the top of the standings, pending Olympiacos match at Veria tomorrow. However nothing went as planned. They did have to face Panetolikos, one of the fittest and most fine-tuned teams, oozing self-confidence and sticking to their game plan. Also present was a certain Dimitropoulos, who awarded penalties easily tonight (to the rivals), as opposed to the Greek Cup game at Corfu, where he didn't seem to mind the volleyball played inside the box.
PAOK didn't respond well to the requirements of the game in the first half. They were successful in depriving Panetolikos of spaces, but were not able to combine and create chances. Dimitropoulos pointed to the spot, awarding Panetolikos a penalty, after just six minutes of play. Alves beat Charles Itandje, although the latter guessed the correct corner. PAOK had a mountain to climb as they failed to level during the first half.
After the interval and Róbert Mak's entrance on the pitch, the team gained pace, pushed higher up, created opportunities to score and managed to equalize in the 73rd minute through the Slovakian winger, following a fine through-ball by Christian Noboa. Panetolikos' box was under siege as PAOK were searching for the winner. But the referee's decisions, friendly towards the visitors, the substitutions of Makis Chavos and PAOK's poor finishing gave Panetolikos the opportunity to win more than they deserved. Launching a counterattack deep into stoppage time, they caught PAOK's defence in disarray and Alves made it 2-1 for the Agrinio outfit.
Line-ups:
PAOK: Itandje, Skondras, Vítor, Katsikas (Kitsiou 87′), Raț, Tzandaris (Mak 46′), Maduro, Noboa, Salpingidis (Costa 75′), Pereyra, Athanasiadis.
Panetolikos: Stefanakos, Bejarano, Kevin, Kousas, Edjenguélé, Godoy, Martínez, Fotakis (Malezas 81′), Villafáñez (Rusculleda 71′), Kappel (Lazăr 59′), Alves.