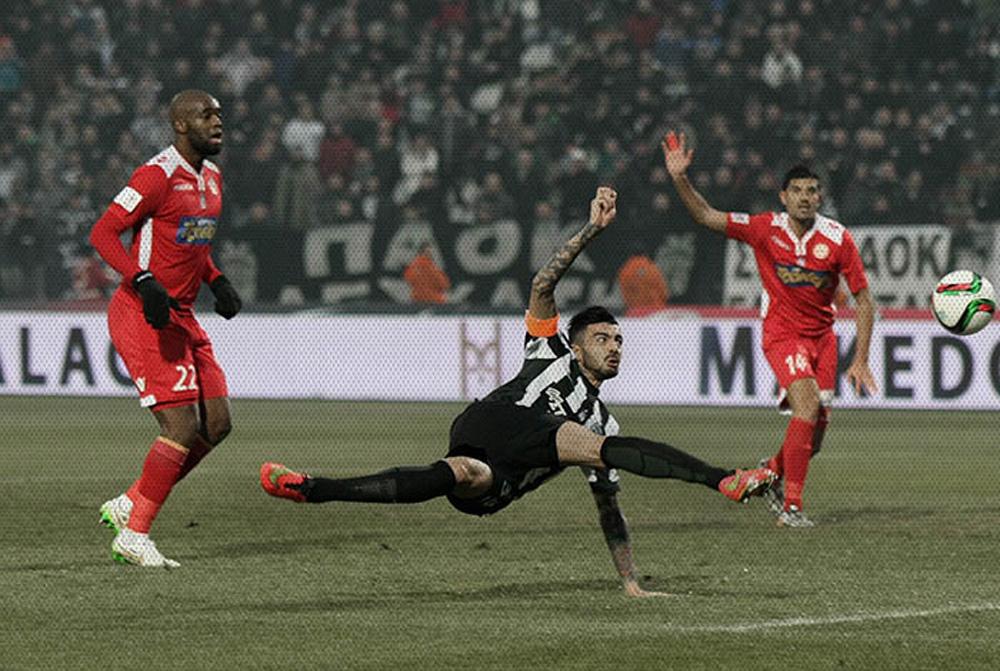 There were 16.000 fans in the stands at Toumba Stadium as PAOK did their duty against Platanias and remained within touching distance from the top, by increasing their distance from teams trailing at the same time. The "Double-Headed Eagle's" faithful from all Northern Greece responded to the players' call and came early at Toumba, for a warm welcome to Angelos Anastasiadis' troops.
PAOK kicked off proceedings aiming to get control right from the start. They were successful, as Platanias retreated in their own half, trying to keep their lines organized and waiting for their hosts. Their tactics made for a low rhythm match, without many goalscoring chances. There were just a few warning shots fired before minute 24. That is when –left full-back for the day- Giannis Skondras crossed towards the spot area, where lurking Stefanos Athanasiadis unleashed his favourite one-touch shot and beat the rival goalkeeper.
That proved the match's highlight, as opportunities were scarce for PAOK, while Platanias couldn't react either. In the second half, the home side handled their lead effectively, avoiding unnecessary risks and managed to seal a three-match week with a second three-pointer. In the last stages of the match, PAOK fans got to see the two newly-signed players on the pitch. Both Sotiris Papagiannopoulos and Christian Noboa were treated to a warm welcome by Toumba faithful.
Line-ups:
PΑΟΚ: Itandje, Skondras, Vítor, Katsikas (68′ Papagiannopoulos), Konstantinidis, Tzandaris, Maduro (62′ Golasa), Mak, Salpingidis (78′ Noboa), Athanasiadis, Pereyra.
Platanias: Olimpa, Zaradoukas, Itoua, Dimitris, Apostolopoulos, Tetteh, Aguilera, Mahamat, Tsourakis (55′ Milunović), Goundoulakis (78′ Figueira), Giakoumakis (72′ Torres)