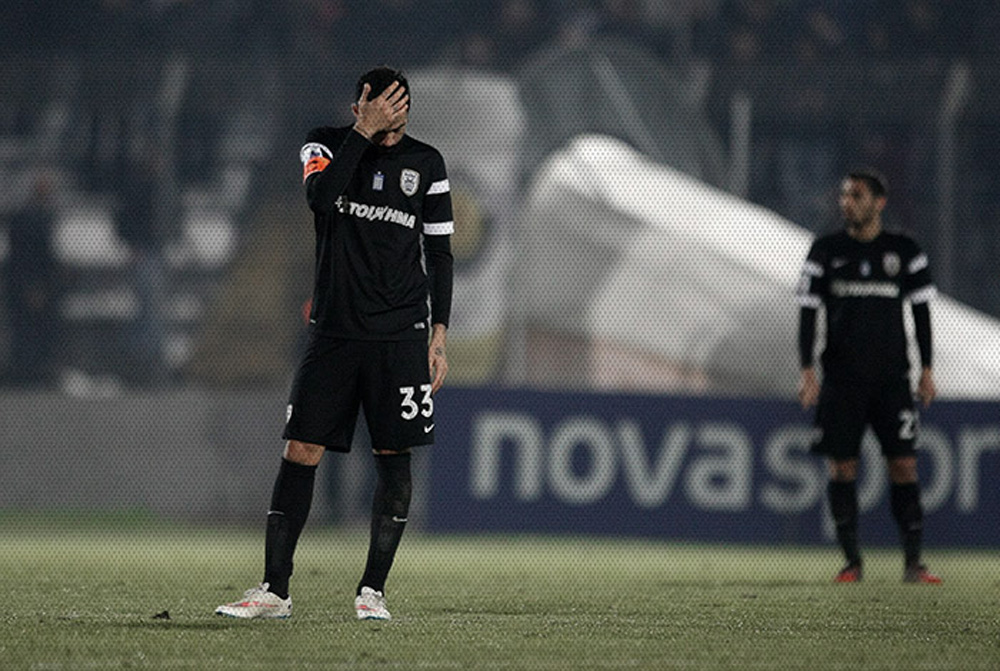 Before their last two outings, PAOK were undefeated away from home in the league, scarcely allowing any goals and playing free-scoring football. On Thursday, PAOK suffered a 3-0 defeat and were made to pay for their absences due to suspension or injury.
"Nothing went our way, it was a very bad evening for us", Angelos Anastasiadis said afterwards. He saw his players hit the ground running and carve out early chances with Stefanos Athanasiadis and Dimitris Salpingidis.
However it was the home side that scored the opener through a long-range effort by Andi Lila in the 26th minute. A double blow for PAOK, as Panagiotis Glykos got injured in the process and Charles Itandje took his place in goal.
The complexion of the encounter didn't change after the interval. PAOK were in control of proceedings, without being able to make their possession count. They wasted their best chance to equalize in the 69th minute, when Athanasiadis fed Fanis Tzandaris and the youngster teed up Facundo Pereyra, but the latter failed to push the ball past the line from close up. In the 72nd minute, PAS Giannina completed a fine counterattack with Nikos Korovesis beating Itandje to make it 2-0.
Dimitris Papadopoulos' header in the 80th minute and Athanasiadis' rather soft shot eight minutes later didn't trouble the home outfit –meaning that PAOK failed to score in a league match for the first time this season. PAS Giannina's first victory over the "Double-Headed Eagle" since 2003 was sealed by Michalis Manias, who scored deep into stoppage time and then got sent off for a second bookable offence.
Line-ups:
PAS Giannina: Vellidis, Struna, Korovesis (84΄Dasios), Michail, Tsoukalas, Lila, Tzimopoulos, Ilić (62' Acosta), Charisis, Chavez (87' Manias), Nadales.
PΑΟΚ: Glykos (31' Itandje), Kitsiou (67' Papadopoulos), Spyropoulos, Vítor, Skondras, Kace, Tzandaris, Golasa, Pereyra (77' Koulouris), Salpingidis, Athanasiadis.