paokfc.gr/News/
PAOK Under-19's incredible «anniversary»
PAOK Under-19's incredible «anniversary»
One can achieve many things in two years. But let's not overthink it. Because you may choose, among other things, simply not to lose. This is exactly what PAOK's Under-19 side have done. And this, believe us, is by no means an accident.
10.12.2019
The 'refuse to lose' mentality of the Under-19 side has lasted for two years now. Even if the most common thing in football is to lose a game – and rightfully so – this team has deservedly earned the right to celebrate this particular anniversary.
It was December 10 2017 when PAOK lost 1-0 against Panathinaikos on Matchday 14 of the Super League. And they have not let it happen since, completing exactly two years unbeaten in 59 matches (53 wins and six draws).
The first league title of the Pablo Garcia era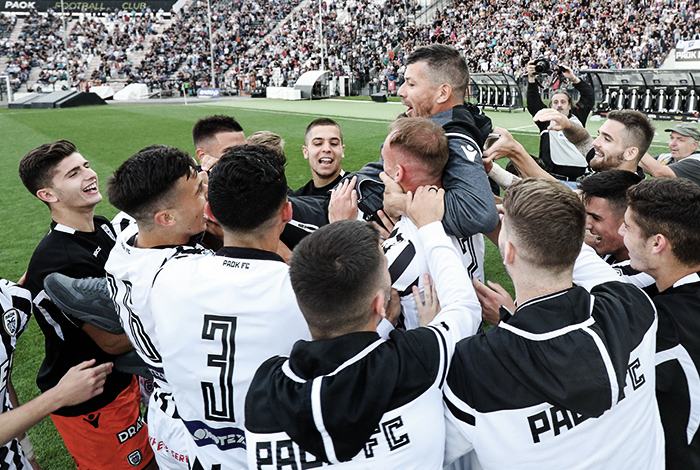 Following that loss against Panathinaikos, the Dikefalos tou Vorra finished the season with another 15 victories and a draw (away to Panathinaikos). PAOK won the championship with 76 points in the 2017-18 season, with Panathinaikos second on 71 points. Overall in that season, the team won 24 times (7-0 was the biggest win against Kerkyra), drew 4 times (against Panathinaikos, Olympiacos, Asteras Tripolis, and Panionios) and suffered two defeats (against Atromitos and Panathinaikos). PAOK scored 75 goals and conceded 14.
Alexandros Gargalatzidis was top scorer with 18 goals, followed by Lefteris Lyratzis with 10, and Ilias Markovski and Zisis Hatzistravos with eight apiece. Hatzistravos and Konstantinos Balogiannis lead the assists with 8, while Marios Tsaousis contributed seven, and Giorgos Tzovaras five. Those with the most playing time were Lefteris Lyratzis (2,463 minutes), Hatzistravos (2,309 minutes) and Apostolos Diamantis with 2,308 minutes.
Back to back with a record points total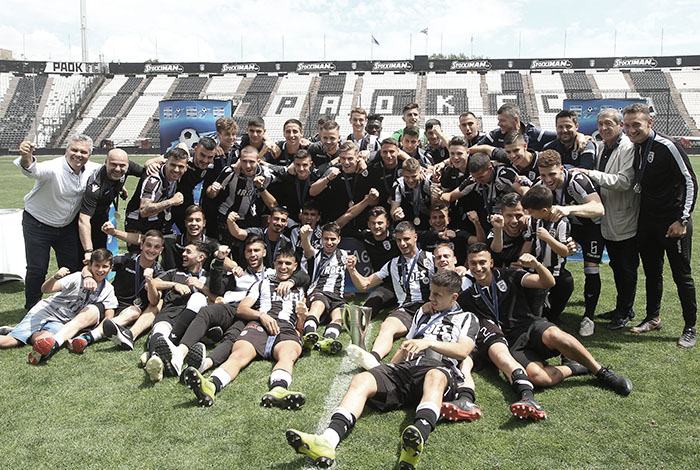 In the 2018-19 season, PAOK chalked up 28 wins and 2 draws (against Asteras Tripolis and Aris). The biggest victory was a 7-0 success against PAS Giannina. Antonis Gaitanidis was the top scorer with 15 goals, followed by Giorgos Doumtsis and Dimitris Panidis, both with 12, and then Zisis Hatzistravos with 10. Top of the assist rankings was Gaitanidis with 12 goals, followed by Chatzistravos (9), Balogiannis (7) and Doumtsis (6). Marios Tsaousis (2,520) and Apostolos Diamantis (2,490), Giannis Michailidis (2,430), Zisis Hatzistravos (2,190) recorded the most playing time minutes.
The Under-19's of course lifted the championship trophy after finishing with 86 points vs. AEK's 64 points. PAOK scored 85 goals and conceded just 20 and, naturally, set a new Super League record for both Under-20 and Under-19 leagues.
Another team, same mentality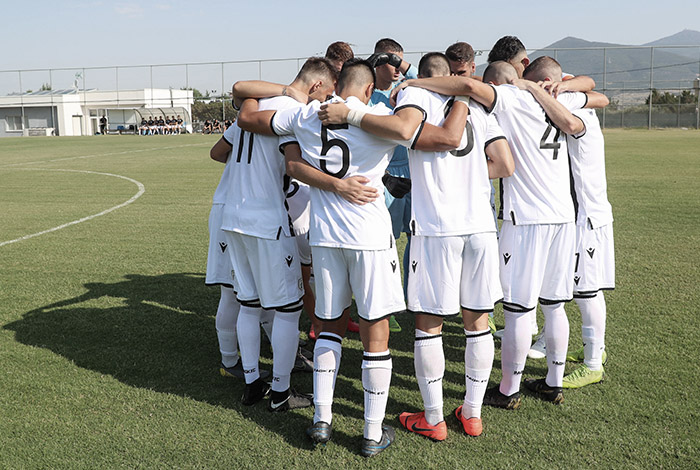 The current season is shaping up much in the same manner. So far, PAOK has recorded 10 wins and 3 draws (against Atromitos, Aris and Olympiacos), while its biggest win was a 6-1 rout of Panionios. PAOK have scored 31 goals so far and conceded 7.
Christos Tzolis leads the scorers with 11 goals, followed by Dimitris Panidis and Giorgos Doumtsis with 6. At the top of the assists table are Christos Tzolis and Giorgos Koutsias (3), followed by Dimitris Panidis (2). Those with the most playing time are Haris Tsiggaras (980 minutes), Giannis Michailidis (973), Kyriakos Giaxis (867) and Petros Kaloutsikides (962).
Pablo Garcia took over the leadership of the Under-19 coaching set-up in 2016, along with Apostolos Papavasiliou. The 2017-18 season saw Miroslaw Schnauzner and Dimitris Taxidis join and in the last two seasons Garcia has worked with Schnauzner.
PAOK Academy Director Vangelis Pourliotopoulos said of the team's incredible run: "Congratulations to all the players and the coaching staff. It is a prime reason to recall the essence of our philosophy, which is the overall education of athletes and their characters. We focus on very strong training, with a focus on hard work, knowledge and humility, all of which is aimed towards creating high quality football players. At Under-19 level, winning is also very important, because this is the final stage of preparation before entering full, senior level. Going undefeated and winning championships is obviously important, and they are worthy of all the plaudits, but those things are not an end in themselves. Above all, what we all strive for is to bring as many kids as possible through, make sure that they are as fully prepared as possible – at both their level of education and personality – into men's football.»
The European «adventure»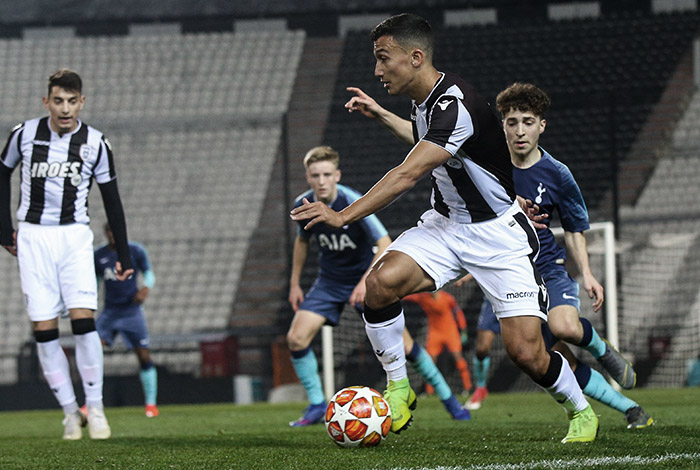 Two consecutive domestic championships brought also a remarkable run in Europe in the UEFA Youth League for the Under-19's. In the 2018-19 season PAOK faced AEL Limassol (2-1 in Cyprus and 2-0 in Thessaloniki), Minsk (1-0 in Belarus and 2-1 in Thessaloniki) and was eliminated by Tottenham Hotspur (0-1) in an unforgettable match at the Toumba in front of 12,000 fans. PAOK were just a breath away from the last 16.
Thisseason PAOK faced FC Bohemian (1-1 in Ireland and 1-0 in Thessaloniki) and was then eliminated by Dynamo Kyiv after losing 3-0 in the Ukraine and drawing 2-2 at the Toumba.
Under-19's team profile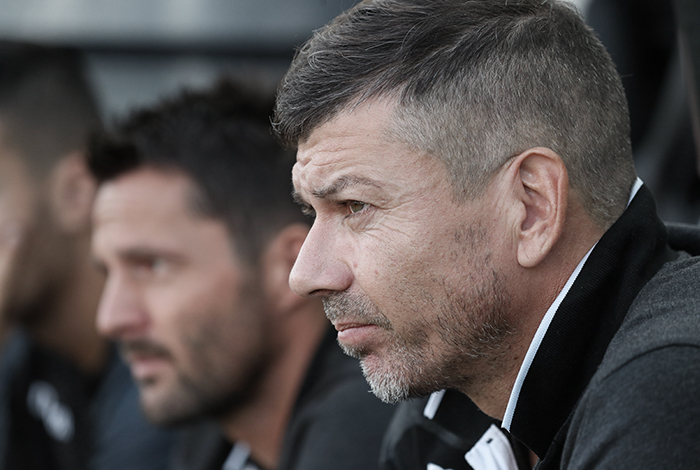 The Under-19 team are made up of the following players:
GOALKEEPERS: Christos Talichmanidis, Konstantinos Balomenos
DEFENDERS: Giannis Michailidis, Panagiotis Panagiotou, Efstathios Tachatos, Giorgos Lagagonidis, Aydin Daiko, Aventis Aventisian, Petros Kaloutsikidis, Konstantinos Koulierakis, Kyriakos Giaxis
MIDFIELDERS: Vassilis Grosdis, Haris Tsiggaras, Thomas Karamberis, Giannis Konstantelias, Theodoros Pournaras, Dimitris Tsopouroglou, Dimitris Theodoridis, Giannis Pipiliaris, Giannis Karakoutis, Aichilakas Salamouras
FORWARDS: Antonis Gaitanidis, Christos Tzolis, George Doumtsis, Vassilis Gorteziani, Dimitris Xifilinos, Kimon Koreas, Dimitris Panidis, George Koutsias
The coaching staff is made up of:
Head coach: Pablo Garcia
Assistant coach: Miroslav Schnauzner
Fitness coach: Haris Kosmis
Goalkeeper coach: Vasilis Petropoulos
Video analyst: Giannis Ambatzidis
Team doctor: Giannis Ousantzopoulos
Physiotherapist: Stavros Terzanidis
Minder: Vangelis Babatsis
Chief of staff: Kostas Iosifidis