paokfc.gr/News/
One match, one final
One match, one final
The circumstances have been and largely remain unprecedented. However, this has not stopped the anticipation for the players to get back out on the pitch and experience the adrenaline of a match once more. And not just any match, but a final. In fact, a classic final between PAOK and Olympiakos.
30.06.2020
On Wednesday July 1 at 18.45 at the Lamia Municipal Stadium the leaders of the Northern Group PAOK (61 points in 23 games) and the leaders of the South Group Olympiacos (59 points from 24 games) are called upon to battle for the honour of being crowned the Super League 2019-20 Under-17 champions.
When the championship was postponed, there were five games left to go until the end of the regular season. Obviously it was not possible for them to take place, and obviously there was no reason for a Final Four tournament. So now it's down to one game. A game in which the talented young players born in 2003 and 2004 will have a first-class opportunity for an afternoon of pure football before the summer holidays, and before planning for next season.
As far as the history of the Under-17 Final Four, the format started in 2008, with Olympiacos leading in terms of trophies (6 in total), PAOK second with two, and Panathinaikos, Xanthi and Aris after that all with one apiece. The last time PAOK won the title was in the 2015-16 season, when they beat Xanthi 2-1 in the final. The coaches of that team were Pablo Garcia and Angelos Zazopoulos, and among an extremely talented group of PAOK Academy players were Tsaousis, Tzovaras, Chatzistravos, Lyratzis, and Gargalatzidis.
PAOK Under-17 profile (2019-20)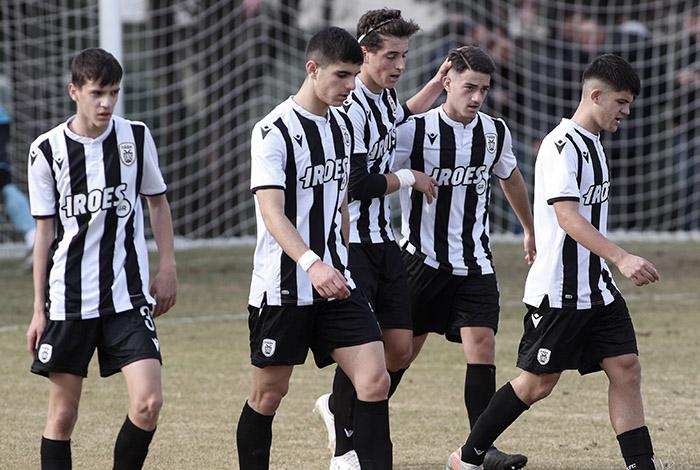 The current crop of Under-17 players are last year's Under-15 champions (the generation born in 2004) and the squad is made up of players born in 2003 and 2004. It is a very dynamic and talented team of young footballers, who have been educated the PAOK way for a number of years.
Just a few of the impressive players who have turned out for the team this season are Botis, Monastirlis, Koutsidis, Tassiouras, Tsikos, Smyrlis, Koutsias, Koulouris, Koulierakis, Konstantelias, Koutentakis and Kitsakis.
Goalkeepers: Alexandros Tsioptisis, Dimitris Monastirlis, Nikolaos Botis, Evangelos Trgaktzis
Defenders: Konstantinos Koulierakis, Ioannis Manolioudis, Konstantinos Pairazidis, Aostolos Xepapadakis, Vasilis Kitsakis, Eleftherios Tasiouras, Isidoros Koutsidis, Ioannis Tsaloukidis, Angelos Zilos, Marios Sinanai, Giorgos Tsiakoumis, Michail – Rafael Kamaros
Midfielders: Titos Kountentakis, Dimitris Kouidis, Ioannis Konstantelias, Zisis Tsikos, Victor Rumanchev, Theodoros Kalogiros, Argyris Darelas, Petros Chatzialexiadis, Konstantinos Thomaidis
Forwards: Giorgos Koutsias, Alexandros Kedikoglou, Giorgos Koulouris, Lampros Smyrlis, Marious Babouras, Nikolaos Spyrakos, Theodoros Spyridopoulos
The Under-17 technical team
Coach: Apostolos Papavasiliou
Assistant coach: Dimitris Taxidis
Fitness coach: Evangelos Alexopoulos
Goalkeeper coach: Michail Psomiadis
Video analyst: Alekos Theodoridis
Physiotherapist: Konstantinos Michailidis
Minder: Efastratios Arizanis
General Manager: Stavros Sarafis
Live broadcast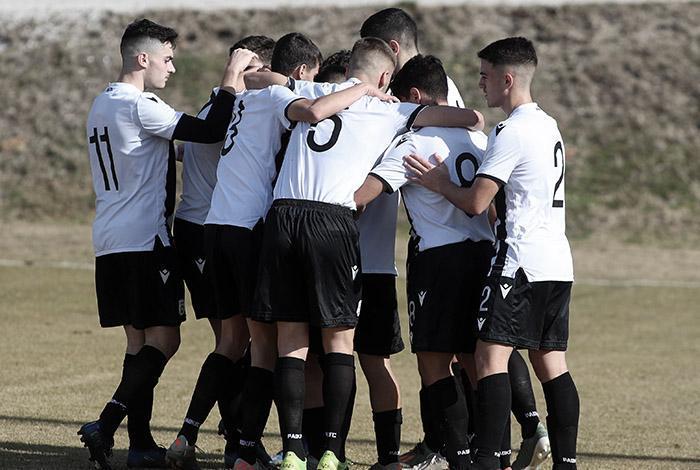 The Super League Under-17 final between PAOK and Olympiacos will be broadcast live via the Super League's official YouTube channel.