paokfc.gr/First Team/
Tzimas' record
Tzimas' record
Ability, confidence, resilience, and big ambitions. A thirst to observe and learn. Kindness. And a smile, as broad, guileless and unfiltered in an age of images where everything is "scanned" thoroughly. For kids who become men at an early age, there is no other way than consistency in these virtues.
06.03.2023
Our youngest, in spite of a frenzied evolution, is a child. Just two months ago he turned 17. But he is a member of the men's first team squad, already bathed in the gold dust of current events, with something of a light offered on the evening of March 5 by his immeasurable joy in dark times. And it's him, our youngest, who is rewriting lists of records and statistics. Stefanos Tzimas has become the youngest scorer in PAOK's history.
A new member on the scene among our «protagonists», the boy who has been training at PAOK since the age of seven, coming from M. Alexandros Kalamarias and who recently renewed his contract until 2025, came off the bench in the 71st minute of the match against Ionikos on the evening of March 5, 2023 in an emotionally charged Toumba (a reflection of the sadness that sums up the current mood of our recent days). In a unique moment that Greek football has not experienced many years, he was applauded. His friends that he grew up with at the PAOK Academy were there, academies from Thessaloniki and all over Greece also came to the match to see up close this young boy who shines bright. The ball boys were hugging him, his brother was bragging – mom and dad were away on a trip, maybe it was the only time they didn't come to the stadium – while all the kids waiting outside the stadium just wanted to hug him and capture the moment.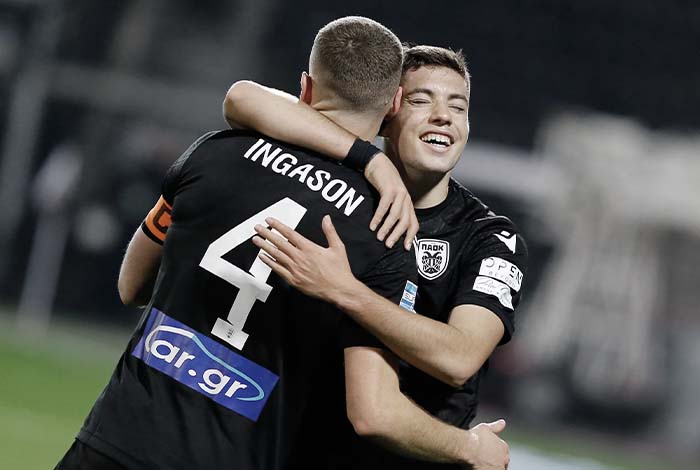 In the first minute of added time he rose to score with a header. «I thought I was going to score, but not with a header, it didn't even occur to me that I would score with a header, I rarely do,» he says. For his smile, that effortless natural link that unites people, for his embarrassment at the celebration that filled – without exaggeration – the eyes of those who love him and are proud of him, the images speak for themselves…
Obviously, the fact that this goal makes him the youngest scorer in the history of PAOK, ahead of the living legend Giorgos Koudas, did not and does not matter. These are numbers and lists and tributes that do not concern young Stefanos. They «force» us to … dust them off. Stefanos claims that he would be equally happy with any of his goals at the Toumba. Stefanos fell asleep around 02:00 on Monday morning, he watched, and re-watched the goal more than ten times, he says, he uploaded on social media the photo of Ingason lifting him in his arms, he declared himself blessed, and in the morning he went to school embarrassed and happy with the reception reserved for him by teachers and classmates and at noon he left for training.
Of course we will leave it to him to tell us more about everything in time. For now, we just rejoice in his joy and enjoy the moment.
The young internationals…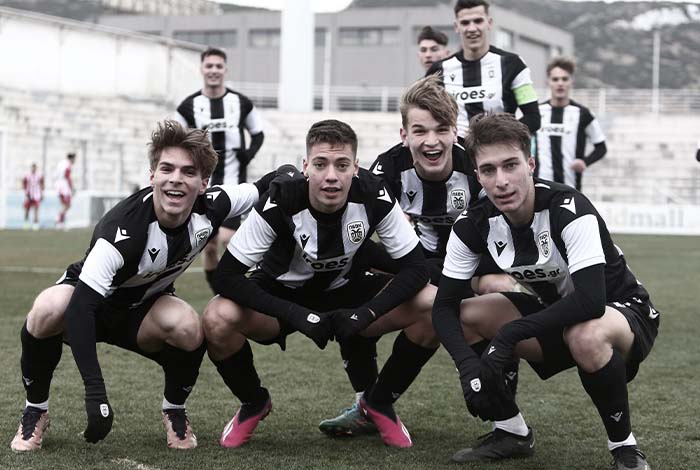 One goal for PAOK, four goals and one assist in eight games (only one starting) with PAOK B in Super League 2, four goals and one assist in nine matches with the Under-19s. Playing at three different levels in the same season. Potentially, he can compete in four teams (Under-17, Under-19, PAOK B, and PAOK)… As for our national teams, he already has six goals for the Under-17s and another three with the Under-16s. He is captain of the Under-17s and will soon be called up to the Under-19s.
Youngest scorer in PAOK history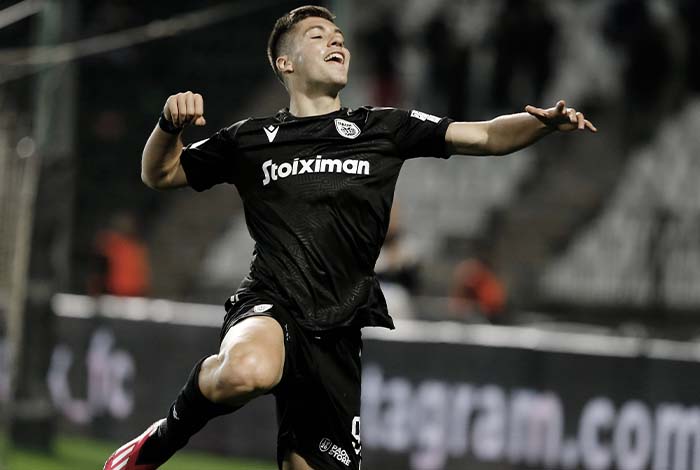 Stefanos Tzimas: 17 years, 1 month and 26 days old (PAOK–Ionikos 6-0, 05.03.2023)
Giorgos Koudas: 17 years, 4 months and 9 days (PAOK–Niki Volos 1-0, 01.04.1964)
Kostas Panagiotoudis: 17 years, 4 months and 15 days (PAOK–Doxa Drama 2-0, 18.04.2012)
Stavros Sarafis: 17 years, 8 months and 21 days (PAOK–Aegaleo 4-0, 08.10.1967)
Stelios Pozoglou: 17 years, 10 months and 20 days (PAOK–AZ Alkmaar 2-2, 12.12.2013)
Efthymis Koulouris: 17 years, 11 months and 7 days (Apollon-PAOK 0-3, 13.02.14)
Alexandros Laridis: 18 years and 9 days old (Olympiakos Nicosia – PAOK, 11.04.1970)
Koulis Apostolidis: 18 years and 16 days (PAOK–Pierikos 2-0, 18.03.1964)
Dimitris Orfanos: 18 years and 27 days old (PAOK–Kavala 3-1, 29.11.2000)
Dimitris Salpingidis: 18 years, 1 month and 12 days (PAOK–Lokomotiv Tbilisi 2-0, 30.09.99)
Η γενιά του 2006…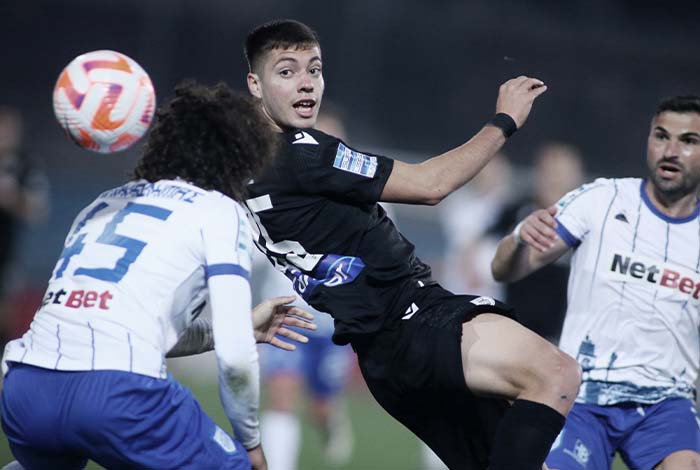 Additionally Tzimas, with the minutes he played in the match against PAS Ioannina (25.02.2023) represented the generation of 2006 by making history, as even on the day he made his debut, no player born even in 2005 had appeared in the Stoiximan Super League! This happened one Sunday later with Sarantis Tselembakis. Until today, 10 players from the generation of 2004 had competed in the league. The first to start again belonged to PAOK and was none other than Giorgos Koutsias, who came on as a substitute in a match against Atromitos on 19.09.2020.
The fifth youngest…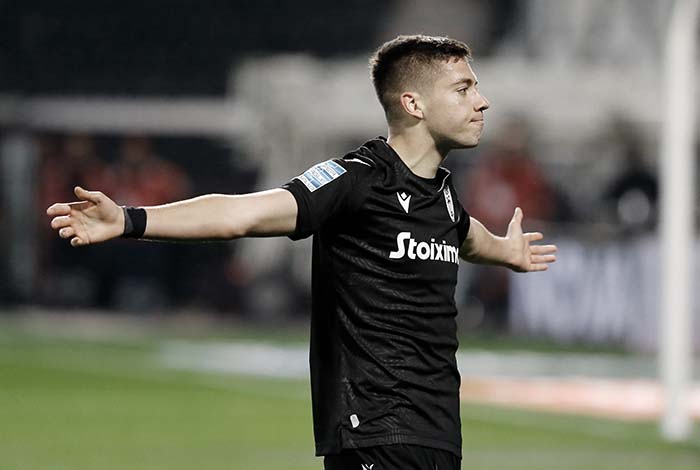 When he came on as a sub at Zosimades, Stefanos became the fifth youngest footballer in the history of PAOK in the top flight. However, he is still a way behind Apostolos Tsourelas, who at the age of 16 years and 219 days played for PAOK against Doxa Drama in a 1-0 win on February 24, 1980, while Giorgos Koutsias, who was 16 years and 220 days when he played in the PAOK-Atromitos (18.09.2020), is also ahead of him. Giorgos Koudas, moreover, who has the most appearances for PAOK, made his debut at the age of 17 years and 27 days. Therefore, Tzimas, with his debut in the Super League, became the fifth youngest player in the history of PAOK to make his first appearance in the league.
The list of the top 5:
Apostolos Tsourelas 24.02.1980 Doxa Drama 16h., 7m., 9d.
Giorgos Koutsias 18.09.2020 Fearless 16h., 7m., 10d.
Vangelis Nastos 25.05.1997 Kastoria 16h, 8m, 12d.
Dimitris Popovits 21.01.2012 Panionios 16 years, 11m, 10d.
Stefanos Tzimas 25.02.2023 PAS Ioannina 17yrs., 1m., 19m.
The start with PAOK B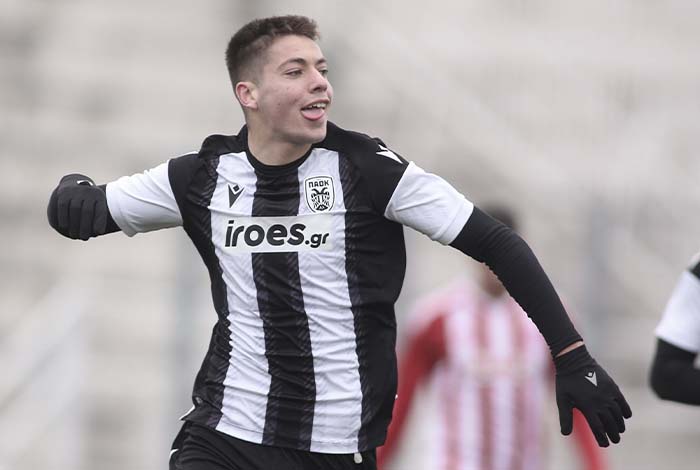 Stefanos had already become the youngest player to score in a PAOK shirt in the professional leagues with the two goals he scored for PAOK B in the game against Anagennisi Karditsa on 26.11.2022 at the age of 16 years, 10 months and 20 days.
Debut for the men's first team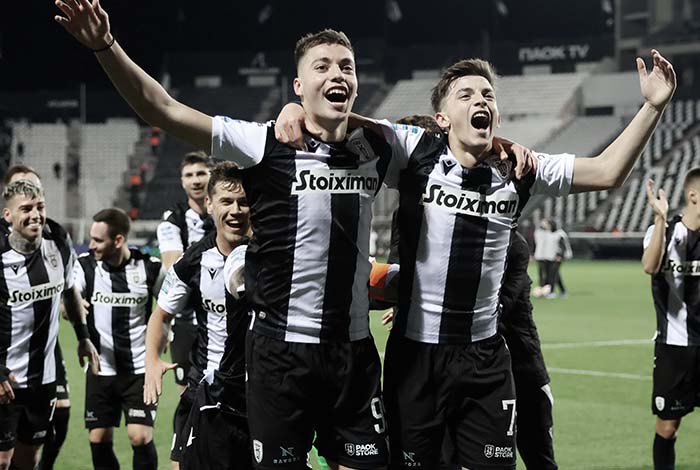 And so, it didn't take long for his first appearance with the men's first team to come along. That came in the home Greek Cup match against Kalamata at the Toumba (10.01.2023), which took place four days after he turned 17. Somehow, he entered the top ten list of the youngest players who have played for PAOK. Of course, it matters little, but this statistic also puts him on the relevant list higher than Giorgos Koudas, who played for the first time at the age of 17 years and 28 days.
Here is the relevant list:
1. Apostolos Tsourelas, 16 years, 6 months and 18 days old: 07.02.1980: Olympiacos – PAOK 1-2 (Greek Cup)
2. Giorgos Vrakas, 16 years, 7 months and 1 day: 29.11.2017: Aeginaikos – PAOK 1-5 (Greek Cup)
3. Giorgos Koutsias 16 years, 7 months and 10 days: 18.09.2020: PAOK – Atromitos 1-1 (Championship)
4. Vangelis Nastos 16 years, 8 months and 10 days: 25.05.1997: PAOK – Kastoria 6-0 (Championship)
5. Dimitris Popovich 16 years, 11 months and 9 days: 21.01.2012: PAOK – Panionios 1-0 (Championship)
6. Stefanos Tzimas 17 years, 0 months, 5 days: 10.01.2023: PAOK – Kalamata 2-0 (Cup)
7. Giorgos Gougoutsas, 17 years and 12 days old: 26.12.77 Panserraikos – PAOK 1-2 (Championship)
8. Giorgos Koudas, 17 years and 28 days old: 21.12.1963: Ethnikos – PAOK 1-0 (Championship)
9. Asterios Roussomanis 17 years, 3 months and 23 days: 21.9.1986 PAOK – Apollon Smyrni 3-0 (Championship)
10. Kostas Panagiotoudis 17 years, 3 months and 29 days: 1.4.2012 PAOK – PAS Ioannina 1-2 (Championship)