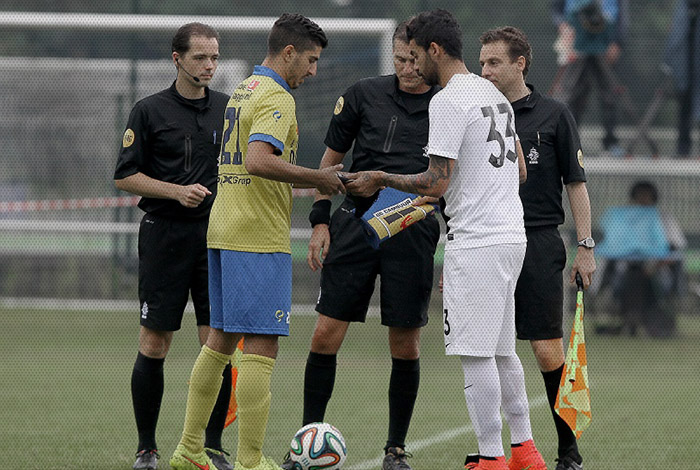 A draw capped with a fine performance
PAOK return to Thessaloniki on Sunday after 17 days spent in the Netherlands and a 1-1 draw capped with a fine performance in their final friendly encounter against SC Cambuur.
In the first half, Angelos Anastasiadis' 11 created more goalscoring chances and were even denied by woodwork on an effort by Miguel Vítor. PAOK players had fine combinations and were in command. In the 14th minute, Maarten Martens broke free from the right and produced a left-foot cross that Stefanos Athanasiadis headed at the back of the net to give his team the lead and open his personal account for the 2014-15 season.
Despite creating chances and applying pressure in the run of play and through set pieces, PAOK were equalized with an astonishing direct free kick by Dejan Meleg from an angle.
After the interval, Anastasiadis fielded a totally different line-up, as usual in the preseason friendlies. He also gave Facundo Pereyra his first minutes on the pitch as a PAOK player! PAOK continued in control of proceedings, the Argentinian and Róbert Mak had various efforts but couldn't score the winner. The Dutch side closed down all spaces leading to their goal and managed to defend effectively. The referee declined two legitimate claims of PAOK for a spot kick, when Stelios Pozoglou and Mak were brought down into the box.
PAOK leave the Netherlands with obvious signs of improvement, both on their fitness level and on their adjustment in new tactics, as witnessed in the last friendly match. Next up for the «Double-Headed Eagle», some high-profile friendly encounters that will give the players the opportunity to be tested against tougher opposition.
Line-ups:
PAOK (1st half): Itandje (32′ Melissas), Vítor, Katsikas, Kitsiou, Raț, Savvidis, Tzandaris, Golasa, Martens, Koulouris, Athanasiadis.
PAOK (2nd half): Giakoumis, Konstantinidis, Skondras, Qose, Spyropoulos, Polyzos, Panagiotoudis, Kace, Pozoglou, Pereyra, Mak.
SC Cambuur: Nienhuis, Pereira, Reijnen, Dijkstra, Bijker, Bakker, El Makrini (73′ Mac-Intosch), Rusnak (80′ Schootstra), Schepers (73′ Schokker), Ogbeche (46′ Van de Streek), Meleg (46′ Hemmen)