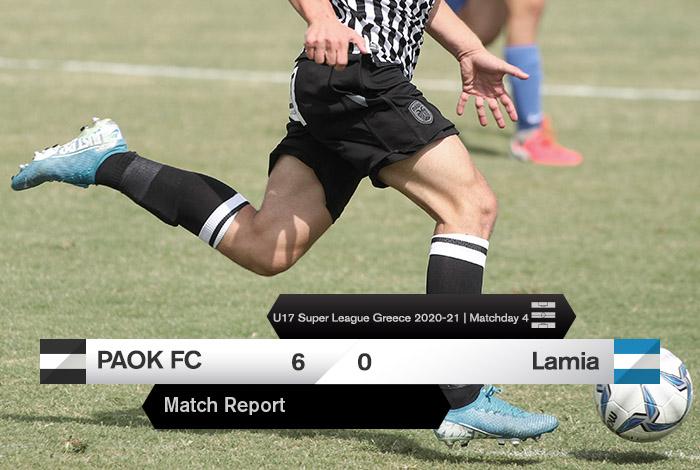 Under-16s thump Lamia 6-0
PAOK's Under-16 side were in rampant form on Saturday, defeating Lamia 6-0 on Matchday 4 of the Super League championship at Souroti. PAOK are now leading the standings with nine points along with Aris.
From the kick-off it was clear that the home side were on form, with Koutsioudis opening the score after just seven minutes following an assist from Ganopoulou. Adam made it 2-0 in the 20th minute, converting a pass from Deligiannis.
In the second half, PAOK flexed its muscles even more, with Koutsioudis adding a third in the 55th minute thanks to an assist from Deligiannis. It was soon 4-0 in the 70th minute with Adam scoring after Lekkas' assist. Adam completed his hat-trick in the 78th minute courtesy if an assist from Georgiadis, and the sixth went in in the 85th minute when Deligiannis fired home a superb effort from 35 meters out.
PAOK line-up: Nikolakoudis, Georgiadis, Deligiannis, Taxiarchis, Theodosiadis (75' Kosidis), Almasidis (75' Pappaevangelou), Adam, Pekridis (80' Vagionas), Goumas (65' Lekkas), Koutsioudis, Ganopoulos (80' Mavris).