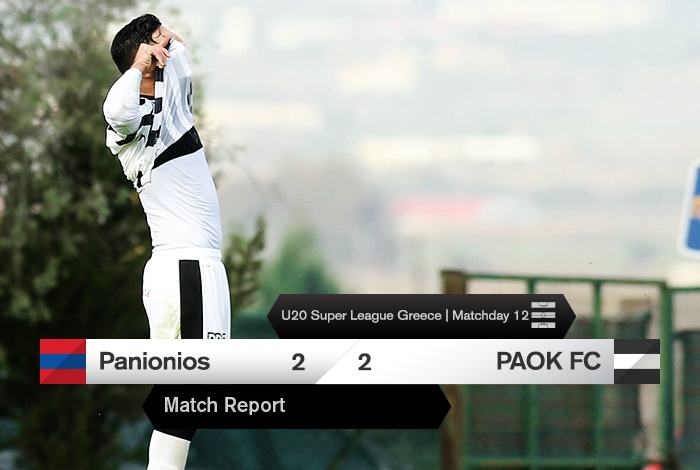 U20s made to pay for errors
The match was held on artificial turf but that didn't affect the players of the "Double-Headed Eagle", who stormed into the encounter. With only 40 seconds gone, they took the lead following an impressive combination between Gaitanidis and Gargalatzidis, the latter firing for the opener. Seven minutes later, Panionios found a reply, as Papadopoulos conceded a penalty and the hosts converted it. Until whistle for half time, the match was balanced with opportunities at both ends of the pitch.
Pablo García introduced Kozak on the pitch in the second half and PAOK staged a siege in Panionios's box, in their attempt to regain their lead. However the hosts were the ones to score instead, taking advantage of PAOK's sloppy defending in the 67th minute.
It took the "Double-Headed Eagle" just one minute to react. After putting the ball back in play, they earned a free kick. Kozak went directly for goal, he was denied by the woodwork, but Τzovaras collected the rebound and made it 2-2.
For the remainder of the encounter, PAOK were in total control, went close to a winner mainly through high crosses and set pieces, but weren't successful, thus losing considerable ground in the standings.
PAOK U20: Muca, Papathanasiou, Lyratzis, Diamantis, Dimitriou, Chatzidimpas, Balogiannis (60′ Tzovaras), Chatzistravos, Papadopoulos (64′ Tsiggaras), Gaitanidis (46′ Kozak), Gargalatzidis.